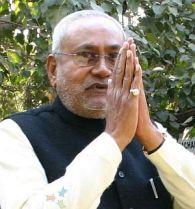 Bihar Chief Minister Nitish Kumar on Tuesday said in the state assembly that its friend-turned-foe Bharatiya Janata Party had betrayed him and the JD-U by projecting Narendra Modi as the prime ministerial candidate of NDA.
"With full responsibility I say that the then BJP president Nitin Gadkari had promised that Modi will not be made the prime ministerial candidate of the NDA. But BJP decided to project Modi and we were forced to end the alliance," Nitish Kumar said.
Nitish Kumar said he has made it clear to Gadkari and other BJP leaders including L K Advani that if Modi would be named prime ministerial candidate, JD-U will have no option but to split with the BJP.
Kumar said that there was no question of returning to the NDA led by BJP.
"The era of Atal Bihari Vajpayee has ended. In no circumstances will the JD-U return to NDA," he said.
"Chahein hum mitti mein mil jayen ya kuch bhi hura ho jaye, yeh namumkin hain ki hum BJP ke sath dobara ho jaye," he said in chaste Hindi.
Nitish Kumar has accused BJP of breaking their trust. He said it was wrong on the part of the BJP to accuse the JD-U of betraying them. "It is the BJP which has betrayed us," he said.
Nitish Kumar said he and his party will not compromise with principle whether the government led by him survives or not.