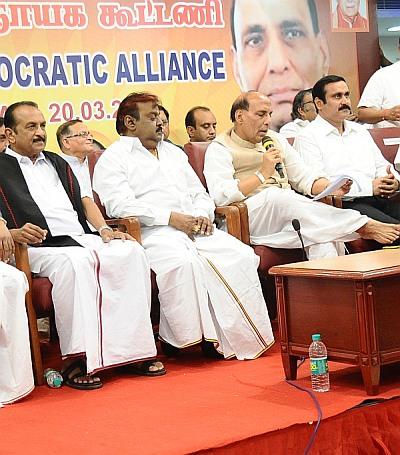 Tamil Nadu, the land of regional parties where the two Dravidian outfits have ruled the roost for long, is witnessing a few fledgling parties testing their electoral luck for the first time in the April 24 Lok Sabha elections, including Aam Aadmi Party and Indiya Jananayaka Katchi.
The coming election is the maiden contest for IJK and Kongunadu Makkal Desiya Katchi, both allies of the Bharatiya Janata Party. However, none of these parties have taken the electoral plunge on their own and have been part of BJP alliance.
Desiya Murpokku Dravida Kazhagam, Pattali Makkal Katchi, IJK, KMDK, New Justice Party are part of the BJP-led grand alliance.

IJK party founder and noted educationist T R Pachamuthu is contesting from Perambalur constituency, while KMDK is contesting from Pollachi.
BJP is contesting in eight seats, DMDK 14, PMK in eight, Marumalarchi Dravida Munnetra Kazhagam seven seats, IJK and KMDK one each under the alliance.

This election is also the maiden entry of the Aam Aadmi party into the political landscape of the state.

Apart from new regional parties hoping to make their political mark, several individuals are also making their debut in the poll fray, including Karti, son of Union Finance Minister P Chidambaram and Anbumani Ramadoss, former Union Health Minister and son of PMK founder leader Dr S Ramadoss.

Though Anbumani Ramadoss was elected to Rajya Sabha, it is the first time that he is contesting the Lok Sabha polls.
Most All India Anna Dravida Munnetra Kazhagam candidates are also making their first poll appearance which include J Jayavardhan, son of former Speaker D Jayakumar. Jayavardhan is contesting from South Chennai.

From the DMK camp, P Jegan, a post graduate in Commerce and a prominent figure in Tuticorin, is entering the poll fray followed by R Girirajan, who is contesting from North Chennai constituency.
CPI-M candidate and National Vice-President of All India Democratic Women's Association, Tamil Nadu unit Secretary, U Vasuki is also making her debut from North Chennai LS seat.
One of the AAP candidates in Tamil Nadu is anti-nuclear activist S P Udayakumar, spearheading the campaign at Idinthakarai, the nerve centre of the stir against the Indo-Russian Nuclear power project in Kudankulam.

Udayakumar is contesting from Kanyakumari while his colleague Pushparayan is contesting from Tuticorin.
In Puducherry, it is also the first Lok Sabha election for the ruling N R Congress government.