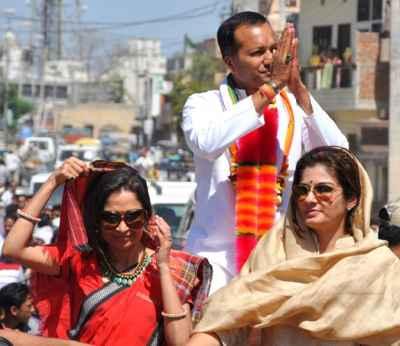 Industrialist Naveen Jindal, fighting to win the Kurukshetra Lok Sabha seat for a third time, has more than just Narendra Modi to contend with. Joel Rai reports.
See I join my palms to request you to reward me for the 18 years of hard work I have done for you," says Naveen Jindal,, dressed in a white khadi kurta, an angavastram around his neck, heelless black loafers on his feet. He has climbed atop the white Toyota Landcruiser and stopped his cavalcade of nine cars and two police escorts right in the middle of the road at Fatehpur near Kaithal town, causing a minor traffic jam. Nine burly SUVs, among them two Lexus LXes with VIP licence plates numbered 1 and 2, are out for the roadshow. Now, hundreds mill around the Landcruiser. Word's out that Bollywood actor Raveena Tandon is in the car. Soon enough Jindal announces, "Today, Raveena Tandonji is here to meet to you. She wants to speak to you." A loud cheer goes up. A head draped in an ecru dupatta pops up. From behind sunglasses -- light coloured so as not to obscure her well-known face -- Tandon, with practised ease, joins her palms and give the crowd her "pyar bhara namaskar". She then says, "On April 10 when you vote, remember to press the button next to my bhai Naveen's name." The cavalcade moves on.

Jindal, 44, is seeking his third term in the Lok Sabha as a Congress candidate. His campaign line, written in Devanagari and English on cars, shirts and caps, is "Naveen Jindal on a hat-trick". Kurukshetra is the constituency from where his father, industrialist Om Prakash Jindal, won in 1996.
The seat went to the son in 2004 and 2009. "He will win this time too," says an earnest Sonu Virk, dressed all in black except for a tri-colour cap. Before the youth can explain why, Suresh Malik, white haired and all-knowing, butts in: "Jindal sahib is our beloved leader. He helps the poor, he gives sports equipment to the youth, he provides medical help." Indeed, Jindal House in Kaithal, where the chairman of Jindal Steel and Power has a constituency office, is fitted with a big open hall, rather like a hospital's waiting room. With comfortable steel benches, Jindal has met his constituents here every month in the past decade.

"I have worked for you since the days of Shri Om Prakash Jindal," says Jindal at the BPR Secondary School ground, where around 1,500 people have gathered. "I don't need to tell you that you can either vote for me or for someone who is asking for your votes in someone else's name." Because of the crush of humanity, Tandon and Jindal's wife, Shallu, daughter of industrialist Abhay Oswal, remain in the SUV. The rally resembles a khap panchayat, with hundreds of mustachioed, turbaned heads all in white. No long speeches here. Twenty minutes later, amid loud cheers, the meeting is over.

Jindal banks on his DNA for votes. Family members, who run the various businesses in the Jindal Group, help the youngest scion. Shallu, a classical dancer, is there by his side, the pallu of her sari over her head, her eyes hidden behind Dior sunglasses.
"My brothers Prithviraj and Ratan and my sisters are helping me," says Jindal. "My mother too." Jindal's mother, Savitri Jindal, is a member of the Haryana Legislative Assembly from Hissar since 2005. Her husband represented Hissar for three terms in the Assembly too. Both served as ministers of the state government. Jindal began as a political assistant to his father before taking the plunge in 2004. And though he is a billionaire, Jindal is also a consummate neta. Ram Singh, again white haired, mustachioed and turbaned, sitting at a roadside Congress kiosk in Kaithal town, says, "He is there for kanyadaans. And when we see him in his car, we only have to motion to him and he will stop and ask, 'Tauji, kaise hain?"

Jindal says he is satisfied with his work as an MP. "India Today gave me 9 points out of 10 and ranked me the No 1 MP in Haryana," he points out. The Times of India scored him 6.02, lower than his party president Sonia Gandhi, but higher than Rahul Gandhi. "If I am rewarded for my performance, I should win," he says.
That 'if" gives away the tension of fighting anti-incumbency and, more importantly, the appeal of Bharatiya Janata Party's prime ministerial candidate, Narendra Modi. "Modi has been marketed well," admits Jindal. "My opponent is seeking votes simply on the strength of Modi's name."

Jagdish Saini, a small-time businessman, says he will vote for the BJP andidate, Raj Kumar Saini. "Actually Jindalji is a good man, but he belongs to the wrong party," he says. "Is samay kay hisab say woh galat party mein hai." The 'time' he is referring to is this election over which Modi looms large. "A lot of work has been done by Jindalji here, but there have been many omissions too," feels Saini.

BJP is a worry for Jindal's supporters too. "Soch hai, hamari jit hogi," says Ramvir Singh. But, he adds, "The margin won't be as big as earlier. Modi will get some votes." The others around him nod their agreement.

"They talk about young leaders. I am 44 years old. All the others are over 60. Who will you vote for?" The crowd yells back, "Naveen Jindal." The candidate asks again, "I have an MBA degree, that too from America. The others are not even Class X pass-outs. Who will you vote for?" No surprises. "Naveen Jindal".

An SUV with an independent candidate drives away, unnoticed. The Bahujan Samaj Party tent in Pundri is deserted, there's no sign of any activity of the Aam Aadmi Party.
A lone car moves around flying a BJP banner and a recorded message seeking votes for Saini. Jindal draws crowd, but his road is not free of obstacles for in the past few years he has faced media flak for certain business practices. For one, there is the negative publicity over the coal block allocations in which he and his company were alleged to have fraudulently got permission to mine coal and generate power that they sold at superior prices. "It is natural that some of my constituents may have been influenced by the reports," says Jindal.
"The Comptroller and Auditor General report was misleading in many places. On top of that, the media too distorted everything." The industrialist points out that the report also says that while Rs 1.86 lakh crore was the windfall gain to companies allocated coal blocks, if they had been auctioned, only a part of this would have been recovered. "But the media only talked of the 'loss'." This reasoning has percolated down to his supporters. "The coal blocks were allocated to Jindalji by the BJP government. Isn't it nonsense to talk of a scam then?" asks Ram Singh, another patriarchal Haryanvi.
Around 5.30 pm, the cavalcade winds its way through the bylanes of Pundri to the DAV College. There, a helicopter lands on the college's grass field, and Jindal bids farewell to Tandon, who has campaigned with him for two days in Kurukshetra and Kaithal districts. As the chopper takes to the sky, a wag comments, "He paid her Rs 20 crore." No one contests the statement. Everyone knows Jindal is a rich man.

In the affidavit filed with the Election Commission of India, Jindal put his assets at Rs 308 crore. With a business empire estimated at $3.4 billion, the young politician -- he is also a national-level shooter and a lover of horses -- can afford to be extravagant. He is a member of Business Standard's Billionaire Club, and worth Rs 15,562 crore as on December 31, 2013.
In 2012-13, he was the third highest paid company executive with a salary of Rs 54.98 crore. Surprisingly, the documents say Jindal has no residential properties or cars. Presumably, his big family -- he is also the karta of the Naveen Jindal Hindu Undivided Family -- owns the plush houses and the cars. Despite his privileged upbringing, Jindal tries to be accessible to people. "He never speaks ill of others. He does not even say anything against other political parties," says Mahadev Mittal, a doctor in Kaithal town.

Kurukshetra's voters are mostly rich wheat farmers. Indeed, at the moment, the fields are blonde with ripe wheat and combined harvesters for hire are a constant sight in the area. Harvest happiness may help Jindal retain his votes, but as he unwinds after voting on April 10, he knows he faces tough odds this year. May 16 will tell him whether his harvest of votes has been good enough.
Image: Congress MP Naveen Jidnal, along with Raveena Tandon, campaigns in Kuruskshetra
Photograph courtesy: Naveen Jindal's Facebook page