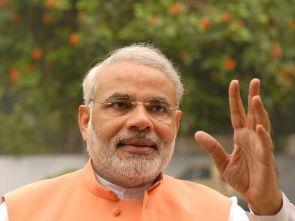 Narendra Modi on Friday won the Varanasi Lok Sabha seat by defeating Arvind Kejriwal by a massive margin of 3.37 lakh votes.
Modi polled 5,16,593 votes -- about half of the total votes -- while the Congress's Ajay Rai, and candidates of the Bahujan Samaj Party, Samajwadi Party now run the risk of forfeiting their deposits.
Although Election Commission officials were yet to formally declare Modi as the winner, they said the counting of votes was over and Modi had secured 5,16,593 votes as against the 1,79,739 votes of Kejriwal.
About 10.28 lakh votes were polled in the constituency where voting was held on May 12, and with more than 50 per cent of vote share, Modi appears to have received the support of the electorate cutting across caste and communal lines.
His margin of victory in this eastern Uttar Pradesh constituency, which happened to be his first electoral attempt anywhere outside Gujarat, also happens to be the highest ever for the Lok Sabha seat.
All the other major players in the contest -- Ajay Rai of Congress, Vijay Kumar Jaiswal of the BSP and Kailash Chaurasia of the Samajwadi Party -- were made to bite the dust with none of them securing more than one-sixth of the total number of votes and they now run the risk of forfeiting their deposits.
The BJP's prime ministerial candidate is now likely to visit this ancient temple town tomorrow on what has been dubbed by party supporters as "Aabhar Yatra" (thanks giving tour).
BJP supporters had been in a jubilant mood, confident of their leader's historic win, even before the counting of votes began this morning at the Pahariya Sabzi Mandi on the outskirts of the city and posters congratulating Modi for his victory had been put up across the city last night itself.
This morning, as soon as Modi appeared to race ahead of all rivals and established a lead of more than 50,000 votes, BJP supporters erupted in joy and celebrated by beating of drums and chanting of slogans outside the counting centre as well as other parts of the city.