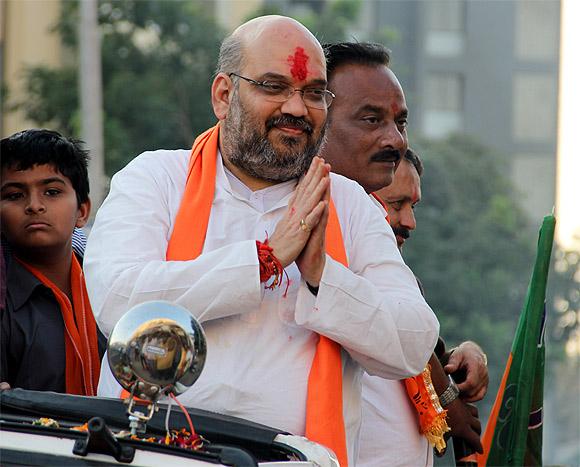 The apprehensions about Narendra Modi among Muslims will "go away" once he becomes the prime minister as there will be policy initiatives to remove such perception, his close aide Amit Shah said on Sunday.
Shah, known as Modi's Man Friday, rejected criticism that the Gujarat chief minister has overshadowed the party and said Modi and the party are "inseparable".
Asserting that nobody should "feel scared" as projected by Congress and other parties if Modi becomes prime minister, Shah, BJP's in-charge of Uttar Pradesh, said, "If Modiji becomes Prime Minister, there will be solution to these apprehensions based on his governance. It will not go away before that. These apprehensions have taken root following long term perception created by the media.
"When Modiji becomes Prime Minister, then solution to such fears will come through him and his government's behaviour. I am pretty clear that nobody should feel scared. The fear will go away as time goes by," he told PTI in an interview.
Shah said a significant number of Muslims had welcomed Modi "whole-heartedly" in his rally in Varanasi besides others for which the party was indebted to people of the holy city.
Responding to a question on 'Modi wave', he said, "The wave is for both BJP and Modi. Modi wave and BJP wave are media's creation. You cannot separate Modi and BJP. How can you separate them? He is BJP's nominee for PM's post. BJP has nominated him to lead the election."
Asked if BJP will look for new allies if required to form government, Shah said the party was confident of getting more than 272 seats as there has been huge surge in support for the party across the country.
Responding to a question on BJP's expectation from politically crucial Uttar Pradesh, Shah said it will emerge as the "biggest" party in the state where it managed to wrest only 10 seats in 2009 elections.
"I do not want to specifically talk about the numbers. In the last election we had got 10 seats. This time we will emerge as the biggest party and there will be huge difference of seats between the party in the first position and second position," he said.
Shah said the party had decided to field Modi from this temple town so that it helps the party particularly in Purvanchal and Bihar.
"It is an internal matter of BJP. Obviously, he was to fight anywhere in the Hindi heartland. The party had assessed that fielding him from Varanasi would help it in whole of Purvanchal, Bihar and other nearby areas," he said.
Referring to huge response to Modi's rally in Varanasi, Shah said it reflected the kind of momentum for the party.

Questioned about allegations that Modi was spending huge sums of money in the polls, Shah termed them baseless and said if Congress has proof it should go to Election Commission.
"Congress has consistently been levelling such allegations. All the registered parties are under the purview of Election Commission and if they have any proof, they should place it before the EC and officially complain against BJP," he said.
On objectionable comments made by a number of BJP leaders including him, Shah said he did not mean to say what was interpreted by the Election Commission but had accepted its directive.
"I have already said that there was no intention to say that. But Election Commission had interpreted it and I accepted that (Commission's directive)," he said.
Asked who will be Gujarat Chief Minister if Modi becomes Prime Minister, Shah said, "Party will decide. Modiji is campaigning now. We are campaigning. There is no curiosity among us about it."
On reports of rift between Advani and Modi, he said there was no "difference" between the two leaders.
"There are no such differences. Everybody unitedly made Modiji the Prime Ministerial nominee. Everybody is busy in campaigning. Advaniji is also campaigning. Modiji had himself accompanied Advaniji when he filed nomination."
Questioned about criticism that he sidelined senior leaders in Uttar Pradesh, Shah said it was not true as everybody was working together.
Asked what role he will play in case of a BJP government, he said he was satisfied with the responsibility given to him by the party.