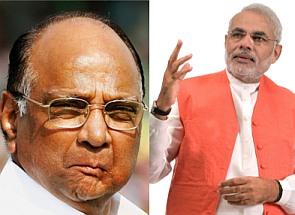 Making a no-holds-barred attack on Bharatiya Janata Party's prime ministerial candidate, NCP chief Sharad Pawar said Narendra Modi needs to be "treated in a mental hospital" for talking "rubbish".
With election fever at its peak, the Maratha strongman made the personal attack against Modi at a rally in Ghanswangi in Maharashtra.
"Modi must have deranged as he talks rubbish things and he is needed to be treated in a mental hospital," the Union agriculture minister said on Sunday at the rally while campaigning for party candidate Vijay Bhamble.

He said Modi does not know about the sacrifices of Congress leaders in the freedom struggle.
"Modi is talking about Congress mukt Bharat. Whether Modi knows the sacrifice and contribution of Congress in freedom struggle? Because of Congress' ideology, we got freedom," Pawar said.
Attacking Modi for the 2002 Gujarat riots, Pawar said, "Members of minority community and Congress ex-MP Ahsan Jaffari were killed in Gulbarga society, which is only 20 km from Ahmedabad where the carnage happened, but Modi neither visited the victims' family nor bothered about them."

He said Modi is "dangerous for the country".

What Modi said about Pawar on Sunday