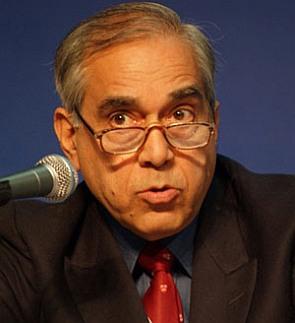 Former Telecom Regulatory Authority of India chairman Nripendra Mishra has been appointed principal secretary to Prime Minister-designate Narendra Modi in the PMO.

Mishra, a 1967 batch Indian Administrative Service officer from the Uttar Pradesh cadre, has served in various administrative field positions.

Before being TRAI chairman in 2006, he worked in close quarters with Communications and IT Minister Dayanidhi Maran during the UPA 1 administration as DoT Secretary and had assisted in formulating some key policy decisions, including the Broadband policy.

From 1981 to 1985, he was also director in the International Monetary Fund-World
Bank Division.
Mishra, it may be recalled, was a crucial witness in the 2G scam trial as he was the regulator when licences were allotted during former telecom minister Andimuthu Raja's tenure.
Mishra rebutted the minister's claim that TRAI had recommended first-come-first-served with 2001 pieces and clarified that their recommendations had asked that new entrants be brought in through a multi stage bidding process.
According to sources, Mishra is a suave officer with a reputation of being completely above board, and perhaps lacking the 'guile' that puts many others in the top-most slots of the bureaucracy.