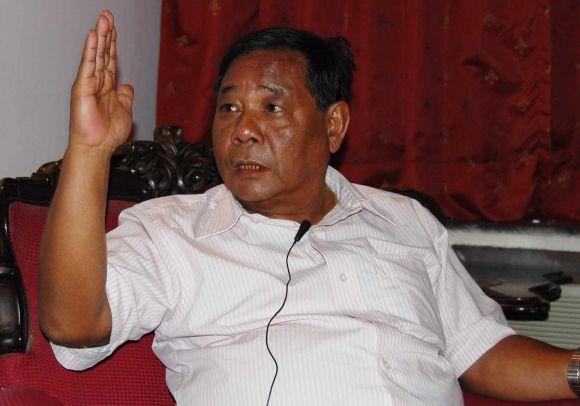 As the two parliamentary constituencies in Meghalaya, Tura and Shillong go to polls on Wednesday, the glare will be on Tura constituency where former Lok Sabha Speaker and eight-time Lok Sabha member Purno A Sangma, 66, of the National People's Party is fighting the most crucial election in his life against Congress greenhorn Daryl Williams Ch Momin, 27, in a straight contest.
Daryl who is the grandson of Meghalaya's first chief minister Captain Willamson Sangma, is cutting his teeth in electoral politics that too against a veteran like Sangma known for his acumen in grassroots campaigning.
Will young Daryl be able to stand up to Sangma's vast experience as a parliamentarian?
Congress leader and Meghalaya chief minister Dr Mukul Sangma has an answer: "Young age is always an advantage as people remain receptive to new ideas at this stage and capable of bringing about positive changes at a fast pace."
He also said, "Daryl's selection at a party candidate is in tune with Congress party's policy to infuse young blood so that a new generation leaders crop up. The party has identified some potential' educated and talented young persons for the purpose and Daryl is one of them," Mukul Sangma said. He is believed to b the main strategist for Daryl's electioneering.
The Congress hopes that Daryl will sail through against formidable Purno Sangma on the strength that out of the 24 MLAs under Tura Parliamentary constituency 13 belonged to Congress while six more independent MLAs support the Congress in the state assembly.
It is a challenging task to pose a challenge Purno Sangma in Tura which elected him to Parliament for eight times, and given the credentials of the veteran politician in winning polls irrespective of whichever party he contests from.
All along the people of Tura have respected Sangma's stature and given him the mandate to represent them repeatedly whether at the state assembly or the Lok Sabha. However, during the last assembly election in Meghalaya in 2013, Sangma's NPP, a political party formed ahead of the last presidential elections, managed to win only two seats.
Daryl who joined Congress in 2012 after completing his MBA from Bond University in Australia, will find it hard to match P A Sangma's ability to mingle with grassroots voters in rural areas with an unparallel ease.
"One has to start somewhere in life and the younger you start is better. When a new person enters an arena he/she brings along some new ideas that may be useful for bringing about positive change. I may be young and pitted against a formidable rival, but I am not alone as the entire Congress party is behind me," Daryl said exuding confidence that the people especially young voters will back him in the polls.
"I fought nine elections from Tura. You know the results of the nine times and do your assessment," Purno Sangma expressing his characteristic confidence of winning polls this time too. Sangma has harped on his support to Garo tribe people's age-old demand for a separate Garoland state to be carved out of Meghalaya in the campaign trail. He said Garoland state demand had become more relevant now after creation of Telangana.
Sangma's foray into politics began in 1977 when he won the Lok Sabha elections from Tura on a Congress ticket. He went on to win the Lok Sabha elections in 1984, 1991, 1996, 1998, 1999 and 2004 besides the by-election in 2006.
While it is a straight contest between Purno Sangma and Daryl Momin in Tura, there are eight candidates in the fray in Shillong parliamentary constituency in the hill state. In Shillong, the contest will be mainly between the sitting MP and Congress candidate Vincent H Pala and United Democratic Party candidate Paul Lyngdoh who has been supported by the NPP.
Other candidates in the fray include BJP's Shibun Lyngdoh, CPI 's Richard D Shabong, Aam Aadmi Party's Armerington Kharshiing, and independents P B M Basaiawmoit, Denis Siangshai and Ivoryna Shylla.
There are 36 assembly segments under Shillong Parliamentary constituency out of which 13 are under the grip of the Congress. So the Congress candidate is facing a challenge there to retain the seat.