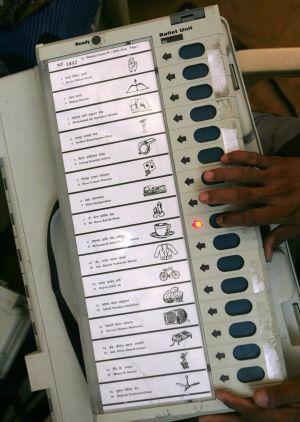 While main political parties especially Congress and the Bharatiya Janata Party are engaging in high-voltage campaign in Assam, young voters, especially the first-timers, sound at a loss about which party or the candidate to choose, as they are hardly convinced about the poll promises and have not been swayed by histrionics of poll candidates.
A group of first-time voters and students from DarrangCollege in Tezpur town in North Assam are wondering whom to vote for this election while issues of rampant corruption during the United Progressive Alliance regime, spiraling prices, illegal migration to Assam from Bangladesh and unemployment are playing in their minds.
Among the main political parties, the Congress has miserably failed to bring down prices and check corruption. The problem of illegal migration has remained unresolved in Assam and the students are staring at an uncertain future as job opportunities have become scarce.
The Bharatiya Janata Party doesn't seem to be deeply inclined to solve problems of Assam as their national leaders lack proper knowledge of issues dogging Assam and other NE states.
They have not found any of the political parties very sincere in making promise to resolve these. We are first time voters and we are going to vote. But we at loss about which party to vote for. We have to vote on the basis of individual profile of candidates," they said.
They have an impression that BJP's prime ministerial Narendra Modi has done well in Gujarat and is better equipped to become the prime minister but he will have to check corruption first to deliver. The election system in the country should be changed drastically so that money is not used to buy votes.
Politicians indulge in and encourage corruption basically to amass fund to be spent in the next election and thereby they corrupt the entire system," said Dipak Chettry, a student of B.Sc 4th semester in the college.
Another group of students in TezpurCentralUniversity observes that Modi had no pan-Indian image while Congress vice-president Rahul Gandhi could not inspire them. They said both the BJP and the Congress looked incapable of checking corruption and creating jobs for the youth.
"Corruption has affected all sections of people and it has become all pervading. A system of electing our representatives to the Parliament should be put in place where money doesn't flow and such a system will go a long way in checking corruption involving politicians," said Anjali Sharma, another student.
"We need a party such as the Aam Aadmi Party in Assam. The AAP failed in New Delhi because other big political parties were resisting its overtures to bring about changes in the system. The VIP culture prevailing among our politicians must go," said Sabnam Farhana Sultana of the same department.
All the students, however, want to vote for a change thereby contribute to overall development of the country. Jarica Sangam a Class XII student in Tura DonBoscoCollege in Meghalaya is going to vote for the first time. He also wants to vote for the change. He doesn't know much about the Modi wave sweeping the country as the BJP has feeble presence in his parliamentary constituency Tura, and fielded no candidate there. He has to choose between for Lok Sabha Speaker and veteran politician Purno A Sangma of National People's Party and 27-year-old Congress candidate Deryl Momin who is cutting teeth in electoral politics.
Another first-time voter Deepak Raj of Tura from Don Bosco said he had been impressed by Modi's performance as the chief minister of Gujarat and hoped that he would perform to his potential to bring about positive changes in India if elected to power. Deepak said he would vote for a change in the regime though he doesn't have an opportunity to vote directly for the BJP which has fielded no candidate in Tura constituency.