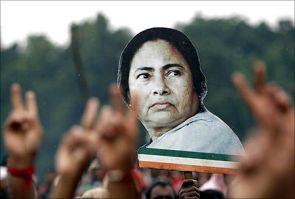 Attacking the Mamata Banerjee government in West Bengal over the issue of development, Rahul Gandhi on Tuesday said funds worth crores were sent from the Centre to the state but they never reached the people.
"We sent crores of rupees to West Bengal government. The money doesn't belong to the ministers and MLAs. It is your money but it doesn't reach your hands," Gandhi told a party meeting in Jalpaiguri district.
His comments came in the backdrop of Banerjee's repeated charge that the central government was taking away a huge chunk of state funds in the form of interest on loans.
On Monday, state finance minister Amit Mitra had alleged that the Centre had deprived Bengal of over Rs 86,000 crore since 2011.
Gandhi said that people of Bengal had removed a Communist government which has "failed" everywhere else in the world and voted for a government to fight for the people and work for the poor.
"But the TMC government is doing the same thing against which it fought," the Congress leader said.
Criticising the infrastructure development in the state, he said the roads he travelled through were in such a bad shape that it took him 15-20 minutes for a 2 minute journey to reach the meeting venue.
"West Bengal government gives you these kinds of roads on which you have to travel everyday," Gandhi said, adding that the state has not progressed the way it should have.
Listing out the achievements of the UPA government, he said they had begun various initiatives like Food Security Bill, MNREGA, RTI Act, women reservation, etc.
He said the Congress wants to make the country a superpower by empowering women, youth and minorities.
"We want to give 33 per cent seat reservation to women in the Lok Sabha and state assemblies but the opposition did not allow us to pass the Bill," Gandhi said.
Addressing the meeting in this predominantly tea garden area, Gandhi assured the voters that the party would do something for their welfare.
Follow the latest election updates on Twitter: @RediffElections
Image: Supporters hold a cut-out of West Bengal Chief Minister Mamata Banerjee
Photographs: Rupak De Chowdhuri/Reuters