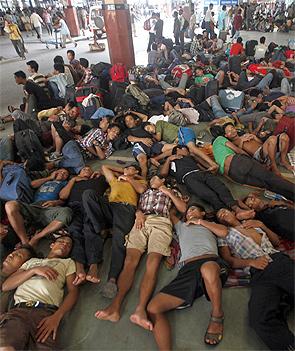 The Indian Mujahideen has formed a specialised wing to fine-tune their hate campaigns, says Vicky Nanjappa
One of the most significant and disturbing events of 2012 was the reverse migration of people from the north-eastern states, who fled from across India to their home states to escape persecution after certain doctored images and vicious rumours surfaced against them.
The incident may have seemed like a random one at that time, but it was the result of a meticulously planned and carefully carried out operation by Asif Mota, a member of the terror outfit Indian Mujahideen.
A team headed by Mota, working from Pakistan, chalked out a plan to trigger a major exodus. They first posted fake photographs online that depicted violence against members of the minority community in northeastern states. A flurry of hateful messages directed against people from the northeast soon followed.
Hundreds of students as well as workers living in other states, fearing for their lives, fled to their native states.
It took the Union home ministry over a month to figure out that the panic had been triggered by elements based in Pakistan.
Security agencies believe that Indian Mujahideen chief Yasin Bhatkal and Mota chalked out this plan some time in July 2012. The organisation wanted to send out a strong message against the violence faced by members of the Rohingya Muslim community in Myanmar.
The IM decided to target people from north-eastern states bordering Myanmar in retaliation by unleashing a campaign of rumour mongering and fear against them.
The Indian Mujahideen soon formed a specialised wing to fine-tune such hate campaigns.
Several social media pages covertly serve this agenda of the IM, believe security agencies, adding that the Tehrik-e-Taliban Hindustan, which has a public profile on Facebook, is one of them.
The IM too has woken up to the untapped potential of the social media.
"A continuous campaign is going on via social media, where groups like the IM keep on talking about the alleged atrocities against members of the minority community. They also post doctored photographs to fan communal sentiments," said an official working for a security agency.
He added that Mota, during his meeting with Yasin, managed to convince the latter that carrying our terror strikes was not the only way to destablise a country.
The IM chief was told that even terror organisations needed to innovate and practice new ways of unleashing psychological warfare.
The terror outfit could only have launched such a well-crafted plan with the patronage of the Inter Services Intelligence which, in turn, used some rogue elements from the North Atlantic Treaty Organisation, believe Indian agencies.
Image: People from northeastern states rest while waiting for the train bound for the Assam state at a railway station in Kolkata ' Photograph: Rupak De Chowdhuri/Reuters