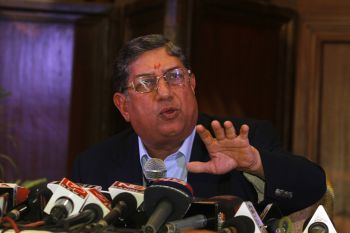 Disgraced former Indian Premier League (IPL) commissioner Lalit Modi has slammed the BCCI chief and new ICC chairman N.Srinivasan, saying that he has a bad influence on Indian cricket.
According to www.pakpassion.net, Modi said that Srinivasan is running the game as his own personal fiefdom without any transparency or democracy, adding that his "cronies" are just "rubber stamps" and does not raise objections for the fear of losing their jobs.
Stating that Indian cricket is on the cusp of a house of cards moment, Modi further said that it may see something similar to what happened with late South African captain Hansie Cronje as soon as next year, adding that the IPL is an added menace to the sport as spot fixing is taking place in a lot of games.
Modi offered the solution of throwing out Chennai Super Kings, owned by Srinivasan, from the IPL roster for cleansing the game, adding that instead of being the greatest tournament in the world, the IPL is wrongly used by BCCI to bully, arm-twist and bring disrepute to the game.
If the way the current regime is running or planning to run global cricket, there will only be the IPL in years to come, Modi added.
Image: N Srinivasan
Photograph: Rupak De Chowdhuri/Reuters