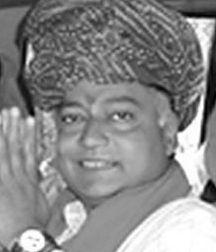 Congress General Secretary Digvijay Singh's younger brother Laxman, who is the party nominee from Vidisha constituency in Madhya Pradesh for the upcoming Lok Sabha polls, said he was hopeful of a victory against Bharatiya Janata Party stalwart Sushma Swaraj.
Laxman said there was no question of his being afraid of his BJP opponent.
"I love overcoming challenges and I am very hopeful that I will win," he said adding he had full faith in Congress workers from the constituency who would work towards it.
Earlier also, Laxman has defeated BJP biggies like Pyarelal Khandelwal and Kailash Joshi in elections.
He thanked the Congress leadership for having faith in him and giving him an opportunity to contest from Vidisha.
Vidisha is not a new place for me. In fact, Sushma has not visited the constituency often after winning from there in 2009, he said.
Leader of Opposition in Lok Sabha, Sushma secured a easy win after she contested for the first time from Vidisha in 2009 when Congress nominee Rajkumar Patel's nomination papers had been rejected on some grounds.
"But, what happened last time will not be repeated this time, Sushma would now know what an election really means," he said.
Laxman Singh, who officially returned to the Congress last year, launched his political career from the Raghogarh municipality in 1987. He was elected twice as MLA from Raghogarh assembly seat and five times MP from Rajgarh constituency, four times for Congress party and once for BJP.
He had quit the Congress in 2004 to join the rival party, from which he was expelled in 2010.
Image: Laxman Singh