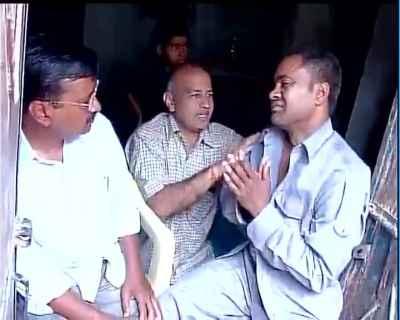 Arvind Kejriwal on Wednesday visited the residence of the autorickshaw driver who had slapped him at a roadshow in Sultanpuri area of North-west Delhi and the Aam Aadmi Party leader said he has "forgiven" the man.
"I forgave him," he said after meeting 38-year-old Lali at his residence in Aman Vihar area of Outer Delhi.
On Tuesday, Lali had first garlanded Kejriwal and then slapped him at the roadshow. Kejriwal sustained a minor injury in his left eye and his spectacles were damaged in the attack.
Lali had accused Kejriwal of not fulfilling promises made to autodrivers.
Lali was later detained by the police but was let off as no complaint was lodged either by Kejriwal or AAP against him.
The AAP leader had called off the roadshow following the incident and headed for Rajghat where he sat for over an hour.
Later at a press conference, Kejriwal had alleged that attacks on him are a part of a "larger conspiracy" and questioned why were these acts only carried out against him and his party.
"Why do these people attack only us and not others? In future, we will also have more dangerous attacks and life threatening attacks, but we have to be ready to face them and not retaliate," Kejriwal said. He, however, said that he will not accept any security.
Image: Arvind Kejriwal and Manish Sisodia meet the auto driver who slapped the AAP leader at the latter's residence
Photo courtesy: ANI/Twitter