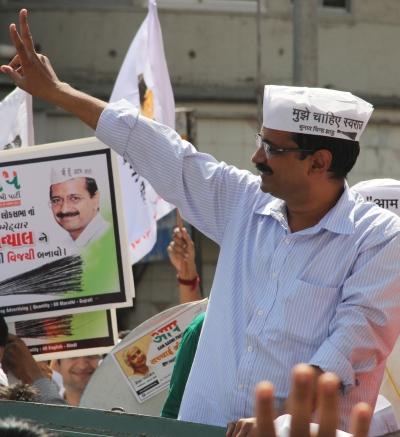 Savera R Someshwar/Rediff.com describes the mood in the humble apartment in Varanasi where the Aam Aadmi Party leader strategises on how to defeat Narendra Modi.
The intensive campaign in Varanasi has taken a toll on Aam Aadmi Party contestant Arvind Kejriwal's health. Dr Abhishek Chandra, Kejriwal's family doctor, has been summoned from Kaushambi, Ghaziabad, Uttar Pradesh, to check on his health.
"He is suffering from a respiratory tract infection, sore throat and infection since two, three days. But he is better now," says the doctor who had dropped in for an early morning visit at the Durgakund apartment where Kejriwal, a diabetic, is staying.
Kejriwal's scheduled programme for Thursday morning has been cancelled, and according to an AAP volunteer who is staying with him, the former Delhi chief minister will not step out for the next few hours.
Nearly 100 Central Reserve Police Force personnel and several AAP volunteers wait outside the apartment.
"Today, the crowd is less than normal," says a policeman stationed outside the first floor apartment, adding, "Normally, it is so crowded that there is no place to stand on the staircase or even in the small passage outside the apartment."
The apartment is spartan, befitting the leader of the Aam Aadmi Party.
Kejriwal's room, which opens into the living room area, has an old wooden double bed.
The living room area has a few thick red and black striped sheets on which visitors sit. A mattress is seen rolled into a corner.
There are a few plastic chairs for those who cannot manage the floor-level seating.
The spacious living room includes a wall inset that holds a 5-litre can of bottled water and a refrigerator. A male house-help stays at the apartment 24 hours to look after day-to-day chores. He is assisted by a female house-help who drops in for a little while in the morning.
By 5 am, some AAP volunteers drop by to accompany AAP leader Manish Sisodia on his morning walk. An hour later, other volunteers drop in with loaves of bread and milk pouches.
Outside, political arguments may occasionally get heated among the volunteers, especially when a BJP supporter passes by, but inside the apartment the mood is more restrained and serious as the AAP strategises on how to turn their diminutive leader into a giant-slayer.