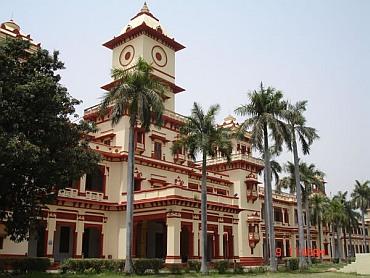 The fight between Aam Aadmi Party leader Arvind Kejriwal and BJP's Prime Ministerial candidate Narendra Modi for supremacy in this temple town has divided students of IIT, Varanasi into two camps who will campaign for their chosen candidate in their own ways.
"I would have supported Kejriwal, but I was not happy with the way he performed in Delhi. He should have proved himself. Running a nation involves a lot of things which includes your economic and other policies. Modi is a tested brand and he has shown his mettle in Gujarat," says 21-year-old Archit Bindal.
Bindal, an electrical branch student at the IIT whose establishment is intimately linked with that of the BanarasHinduUniversity, will along with other Modi-supporter friends campaign in his own way.

He, however, maintains that if given a choice between AAP and BJP in Delhi, he would prefer the new party and give it a second chance.
Preetam Machi (22), another Modi supporter, a fourth year mining student says, "Congress is out of race."
"Just in case AAP gets in a position to form the government it cannot form the government without Congress. So what is the use of supporting AAP here?" he wonders.

Prabhakar Gautam (21), another fourth year student from electrical branch and an AAP volunteer on campus, says he was inspired by Kejriwal's book 'Swaraj'. He also wants the former civil servant to win elections from Varanasi.
"I know it is a one-sided contest here and it is going to be a tough battle for AAP. A majority of our students on campus are Modi supporters. Despite this, I want Kejriwal to be in the Lok Sabha and play a role of an effective opposition," Gautam says.
On campus, he canvasses for the party and is planning to actively campaign for Kejriwal in the run-up to the election.
Despite the two camps, these tech students engage in healthy political debate every evening outside their hostels.
They discuss about the leaders' vision for the country and other aspects like economic and foreign policy.

There are many students here who are yet to take a call.

"Both have their own ways. On the one hand I like Kejriwal, but on the other, I have also seen a proven developmental model in Gujarat," says Avinash Gupta (20), a third year electronics student.

"Both are good in their own ways. This is what makes it difficult…," adds Reetesh Ranjan (20), who hails from Jamshedpur.
Kejriwal has support for another reason here. The AAP leader is an IIT alumni.
"There is some kind of affiliation with him because of his IIT tag," says Gupta.
Both the camps believe that students are politically aware of what is happening in the country.
"Kejriwal's movement has done one positive thing among the youth. They have started taking interest in the country's politics, which is very important," adds Bindal, a Modi supporter.

AAP has many BHU alumni in its ranks including Anand Kumar, who not only studied in the university, but has also taught in the university. A member of National Executive Council, he is contesting from North-East Delhi constituency.

"Many of our 2013 alumni have also joined the party and have been working for it actively," adds Gupta.