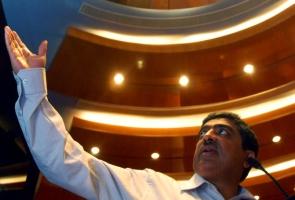 After a five-year stint as chairman of the Unique Identification Authority of India, Nandan Nilekani is set to contest the Lok Sabha elections from the Bangalore South constituency on a Congress ticket.
Nilekani, who will be up against the Bharatiya Janata Party's H N Ananth Kumar, talks about how he intends to bring about change.
Edited excerpts:
One of the pioneers of the information technology revolution in India, you are being considered a role model by many. Do you have a role model in politics?
I am learning from politics. I won't say I have a role model. I think there is a role for politicians with problem-solving backgrounds.
When I look at my life, I have been able to do transformational things. Infosys was one journey; Aadhaar was another. BATF (Bangalore Agenda Task Force), where I worked with politicians and bureaucrats between 1999 and 2004, was also one.
I think Indian politics is ready to accept problem-solving politicians, people who get into the integrity of things to resolve those. It is a good model of politics and I hope to get a good response.
Who are the politicians you are referring to?
I think all the founding fathers of this country have been problem-solving politicians. I don't want to give specific names. I just want to focus on being a good problem-solver.
The focus is on carving a style of politics that is about problem-solving; a style that allows people to feel here is somebody who will work with honesty and hard work to make a difference. That is what I believe in.
What does the Congress mean to you?
I believe when you enter politics, you enter a political party that has principles and an ideology that match your beliefs.
Only the Congress satisfies me…its policies of secular and liberal values, according to which every Indian, no matter what caste, creed, religion and part of India he/she is from, is treated as an Indian.
That's why the Congress is important to me. And, it is the Congress that gave me the opportunity to lead the Aadhaar project. So, it is my natural choice.
Has your association with the United Progressive Alliance government as UIDAI chairman influenced your decision to contest on a Congress ticket?
The Congress gave me that opportunity and backed me to the hilt, politically. It has certainly been important for me to take this decision. What Aadhaar has taught me is I need to be involved in politics full-time to bring about changes.
What lessons from the corporate world are you bringing into politics?
There are three different experiences I can think of.
First, from my experience of about 30 years at Infosys, it is about leading teams, setting a goal and vision, doing things professionally and on time, and achieving things.
From BATF, I learnt the integrity of urban governance and had a first-hand experience of how to resolve civic issues.
Aadhaar showed me how large, complex government projects that cut across many governments and institutions can be executed by consensus-building. Each of these experiences has given me different dimensions of skills that are relevant to this new path.
In the corporate world, especially at Infosys, which you co-founded, you were known as a great consensus-maker and a great sales person. How much of that have you been able to use in politics?
I have always been a team player; I always enjoyed working with other people because I believed all have to work together to resolve problems. So, part of it is about bringing people with diverse backgrounds, different ideas and ambitions together and getting them to agree on something common. And, to an extent, politics is the ultimate forum for consensus-building.
There is speculation in political circles the reason why the Congress brought you into politics is it wants a consensus-builder as a possible prime ministerial candidate in the event of the UPA not getting a clear majority.
I think I have a very limited goal. I have five weeks to work non-stop, day and night, doing door-to-door campaigning, meeting people, convincing them about my candidature and my plans and requesting them to vote for me.
That's what I am thinking about now.
Image: Nandan Nilekani