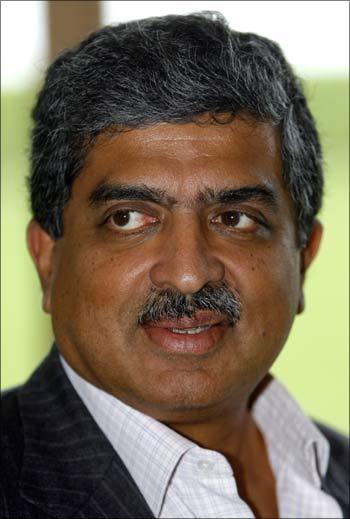 Infosys co-founder-turned-Aadhaar Chairman Nandan Nilekani formally joined the Congress party on Sunday in Bengaluru.
Nilekani is the Congress candidate for the Bangalore South Lok Sabha constituency, where he will battle it out against the Bharatiya Janata Party's five-time MP Ananth Kumar.
"People want change," Nilekani, 58, told the media.
The Congress has won the Bangalore South only once since 1970 when former Karnataka chief minister R Gundu Rao was elected. However, Rao passed away before the completion of his term.
Although formally inducted into the party on Sunday, Nilekani has been working in the IT-strong constituency for over a month now.
He has been involved in door-to-door meetings and cycle rallies, which he termed not as campaigning but generating awareness among voters.
The BJP recently lodged a complaint against Nliekani before the Election Commission, alleging that he was targeting individuals with Aadhaar cards by using its database.
The BJP complaint claimed Nilekani had used the Aadhaar database to locate these voters and sent them pamphlets with his photographs on it.