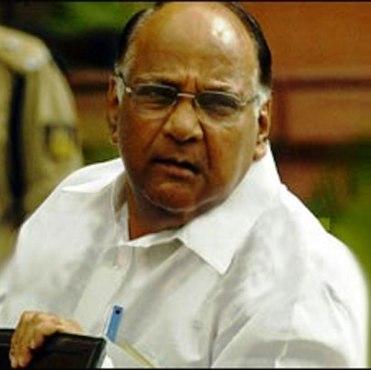 Taking a dig at the Bharatiya Janata Party's prime ministerial candidate, Nationalist Congress Party chief Sharad Pawar said he feared that there were grim indicators of Indian democracy being concentrated in one person's hand after the marginalisation of party veterans like LK Advani and Murli Manohar Joshi.
"Advani is the founder member of the BJP, its former president. He wanted to contest from Bhopal but had to go back to Gandhinagar against his wish. Murli Manohar Joshi, also a former chief, wanted to contest from his old seat but had to shift. Jaswant Singh, an efficient foreign minister, good finance minister and parliamentarian, Mr Modi decided to keep him away and he had to keep away and now he is contesting as an independent. I feel sorry about that. Modi wants to control his party. Of course, it is his party and I cannot say anything, but concentrated power always gets corrupt and it ultimately affects the common people," he said in an interview.
He also likened Modi to Nazi dictator Adolf Hitler. "We have seen Hitler. He was elected from a democratic set-up. He concentrated power in himself and the whole world has seen how he eliminated the Jews, attacked other people, and misused authority. Today, the examples of Advani, Joshi and Singh are illustrative of how power has started concentrating in Modi's hand. It's just the beginning," Pawar said.
Special Coverage: Election 2014
Pawar, an ally of the Congress, said people do not like Modi's idea of a Congress-free India and feels it could come back to haunt Modi. "When Modi started his Congress mukt mission, everybody was shaken. That hurt. People don't like the idea of a Congress-free India. Our own thinking is what we learnt from Nehru, Gandhi and Gandhian thinking. Babasaheb Ambedkar provided us a Constitution which gave tremendous power to the common people. I don't know why Modi raised this slogan," added the NCP supremo.
The NCP veteran also attacked Modi over his assertion that the Lok Sabha polls would mark the end of the Nahru-Gandhi dynasty. "It is not a question of the Nehru-Gandhi dynasty, it is a question of Nehru-Gandhi ideology. It is a symbolic representation of a particular Congress ideology, of the unity of this nation, of secularism of this country. I don't think the glorious history of a country can be erased. Anybody can create history but nobody can destroy or eliminate the glorious history of a nation," he further added.
Asked if Modi and BJP, having toned down the Hindutva rhetoric and talking of inclusive politics, would now be able to take all sections along, Pawar replied in the negative, saying once in power they would go back to contentious issues such as Ram temple, uniform civil code and the abrogation of Article 370 of the Constitution.
The NCP chief also took the opportunity to question Modi's competence as an administrator. "Data published by Reserve Bank of India shows that when Congress chief ministers Madhavsinh Solanki and Chimanbhai Patel were in power, the growth rate was between 16 and 17.5 per cent. After Modi took over, it came down to 9 per cent. If he is such an efficient administrator, why has the growth rate come down?"
"In the last three years, Maharashtra received foreign investments of Rs 1.42 lakh crore but total investments in Gujarat, in spite of the Vibrant Gujarat Summits, were not even 20 per cent of what Maharashtra got. That itself shows what kind of an administrator he is," Pawar said
Slamming Modi's style of governance in Gujarat, Pawar added that the BJP PM hopeful ran a highly centralised government where everything is concentrated in the hands of one person.
He also castigated Modi over the presidential-style campaign he has launched. "He asks people to vote for him. Abki baar Modi sarkaar. Nobody, neither Atal Bihari Vajpayee nor Indira Gandhi ever sought vote for themselves, they sought vote for their party. He wants to personalise everything. There is historical evidence that we have seen in many countries, including Germany which I have alluded to. In a country like India, we cannot surrender to one man, it has to be a team," the NCP president said.