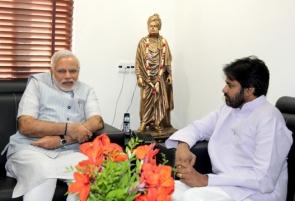 Bharatiya Janata Party's Prime Ministerial candidate Narendra Modi was in all praises for Telugu superstar turned politician Pawan Kalyan. Sharing the stage with him at a rally in Nizamabad, Modi said, "As long as there are people like Pawan, the Telugu spirit will never die."
He said development should take place in both Telangana and Seemandhra and Telugu spirit should be protected.
Interestingly, he made no mention of Chandrababu Naidu or his Telugu Desam Party, BJP's alliance partner in Andhra Pradesh.
Pawan Kalyan recently launched a political party -- Jan Sena -- but has not allied with the Bharatiya Janata Party.
Modi also raked up several issues right from the Telangana struggle to the Congress's insult to P V Narasimha Rao in the first of his four rallies in Telangana on Tuesday.

Special Coverage: Election 2014
Praising Narasimha Rao, he said the country believes his tenure as prime minister was a good one. "But the Gandhi family erased his legacy as it has great animosity towards Andhra Pradesh. Even today, all these years after his death, they don't even offer floral tributes to him on birth and death anniversaries."
The Congress was in power for ten years now and there have been hundreds of projects and there's no mention of Rao's legacy, Modi said
Seeking to take the advantage away from the Congress and the Telangana Rashtra Samithi, which claims credit for the formation of the new state, Modi said Telangana is a reality because of the people and not these political parties.
"I will ensure that I work hard for the development of Telangana," Modi said. He quickly added that both Seemandhra and Telangana are like his children and he would look after them.
"The future of Telangana will be secure under me. One of the many things I would want to do for Telangana is address the issue of those youth who are working in the Gulf under bad conditions."
He also hit out at the TRS indirectly by asking the people if they were not tired of the dynasty rule in Delhi. "Do you want the same thing happening in Telangana as well," Modi asked.
Modi said, "The Congress went about the way of creating Telangana state like a doctor who facilitated birth of a child, but killing its mother," by which he said he meant Telugu spirit, language, culture and tradition.
"Giving birth to a child is a matter of joy, but the child can't be raised by killing the mother," the Gujarat chief minister added.
Attacking the Congress and TRS for taking credit for the formation of the state, without naming them, he said they are telling lies. "It was BJP's decision to create Telangana. We have never made it a secret."
"I have the experience of taking care of Telangana people. Vote for BJP both at the Centre and state and you can have 'laddus' in both your hands," he said.
Modi alleged that the Congress has "animosity" towards Andhra Pradesh and Telangana, and recalled how the then Congress General Secretary Rajiv Gandhi had allegedly insulted Andhra Pradesh Chief Minister T Anjaiah at Hyderabad airport.
Dubbing the United Progressive Alliance regime as 'mother-son'-led government, he said more number of farmers in the country committed suicide than the security personnel killed by terrorists. "Pakistan comes and slits the throat of our soldiers. The Delhi government sits tight. Maoists kill our security forces with bombs and pistols. But the government will not do anything except issuing mere statements."
There is more security personnel killed in the hands of terrorists than soldiers killed in wars since Independence.
More number of farmers committed suicide than the number of security personnel killed by terrorists, Modi said.
"So this is not 'Jai Jawan and Jai Kisan' for this mother-and-son-led government; it's 'Mar-Jawan and Mar-Kisan' (kill soldiers and farmers), he said.

With inputs from PTI

Photograph: Narendra Modi interacts with Pawan Kalyan during an earlier meet