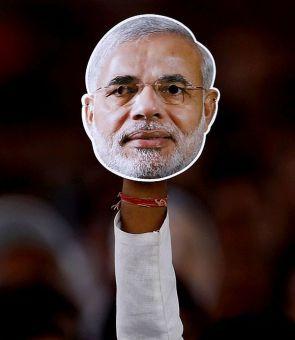 Taking a jibe over the reported row in Bharatiya Janata Party over a move to field Narendra Modi from Varanasi and Rajnath Singh from Lucknow, Congress on Monday wondered as to why Opposition party leaders were looking for a safe seat if there was a Modi wave across the country.
The party also hit out at BJP over its overtures to Raj Thackeray in Maharashtra noting while Modi reaches out to Hindi-speaking people in Bihar, his party wooed Maharashtra Navnirman Sena, which "humiliated" those from Hindi heartland in Maharashtra.
Party spokesperson Shakeel Ahmed's remarks targeting BJP's prime ministerial candidate came on a day when Modi addressed a rally in Purnea in Bihar. Ahmed hails from Bihar.
He said it is ironical that L K Advani and Murli Manohar Joshi, who took BJP's tally so high with their "communal" politics are now themselves not finding space.
"Advani and Joshi had a big contribution in taking BJP's tally to a high by creating a communal atmosphere. Today when that atmosphere is being further vitiated, their own space is in trouble," he said.
Ahmed also said the very search for a secure seat for Modi and BJP President Rajnath Singh in Varanasi and Lucknow makes one wonder where is the "so-called NaMo wave".
"While we are firmly in our places and contesting from our seats, BJP leaders are up to change their seats. So where is the Modi wave," he asked.
On BJP's bid to woo Raj Thackeray, he said, "BJP can go to any extent for electoral gains. What kind of politics this is? Some days before former BJP President Nitin Gadkari had gone to meet Raj Thackeray whose party MNS has been humiliating Hindi-speaking populace. Thackeray has now promised to support Modi's PM candidature."
"Today Modi is seeking votes from the same Hindi-speaking people who were abused by these parties. BJP, which claims maximum support in Hindi states, has alliance with Shiv Sena.
Both Sena and MNS have persecuted the same people. The nation should see what is their politics," he said.
Image: BJP prime ministerial candidate Narendra Modi