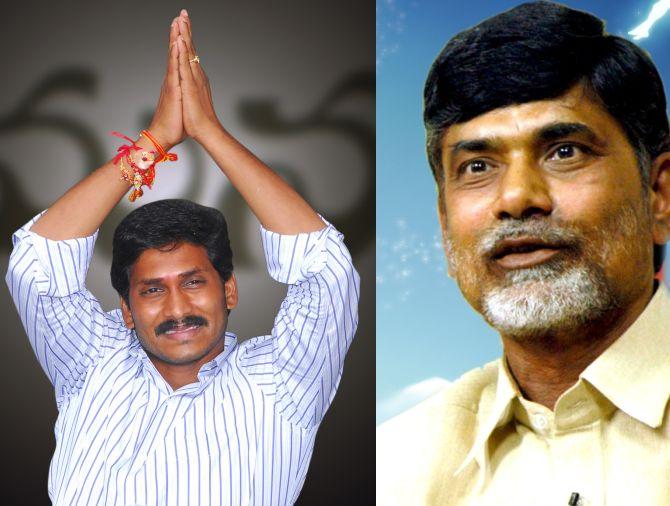 TDP's Chandrababu Naidu and YSR Congress chief Jaganmohan Reddy battle it out for power from Kuppam and Pulivendula respectively. Vicky Nanjappa compares the two areas to see how both of them fare.
In the Seema-Andhra region, the YSR Congress and the Telugu Desam Party are in a tight battle to become the first party to wrest power in the newly-bifurcated region. And with the area going to the polls soon, all eyes turn to two constituencies: Kuppam and Pulivendula, from where TDP chief Chandrababu Naidu and YSR Congress head Jaganmohan Reddy are battling it out for power.
There are few doubts about both of them winning their respective seats. Comparing both areas, it appears that the people are happy with the two leaders. In Pulivendula, Jaganmohan Reddy's constituency, a mention of his father's name Y S Rajasekara Reddy still brings a tear to people's eyes. The people also say that they have little to complain as development continues under Reddy's watchful eye. Additionally, he has also been responsible for the building of educational institutions and 11 hospitals. "We will vote for YSR's son, as we want him to become the chief minister," said Nagu Reddy, a businessman, adding, "We do not want to compare him to his father. His father's greatness is incomparable."
Basha, another voter from the constituency added that he has had the opportunity to interact with both father and son and that both of them are completely different. "Jagan shows a lot of promise, but his father has proven a point already. His death was a huge loss for us, but now we hope to see Jagan as the CM."
While not many are complaining about development, there are a couple of minor issues that the women in the constituency raise. Illegal brewing of liquor is one of the major problems. They complain that successive governments have not been able to stop this menace, as they brewers are hand-in-glove with politicians. "YSR always stood for development of women and if Jagan cares, he will put a stop to this illegal business," said Savithri, a worker from the constituency.
Kuppam, Chandrababu Naidu's constituency, has been his bastion since 1989. But this time, Naidu will not only have to fight the tag of being only an urban-friendly CM but also his failure to stop the bifurcation of the area. Some voters in the area say they are slowly making their peace with the split and believe that Naidu is the only viable option to head the state.
People in the area have little to complain about as development continues at a good pace. The transport network has been developed in such a manner that the area is well-connected. Kuppam is also home to many prestigious educational institutions. Naidu's plans of making Kuppam into an IT hub have also generated a great deal of interest among the people. "He is known to be tech friendly and we hope he does that in Kuppam as well," said a voter, adding that if Naidu came back to power he had promised to get the whole system and administration computerised.
And while it is a wait-and-watch game to see how they both fare, as of now the scales seem to be tipping in YSR Congress' favour, with the party expected to get 90 to 100 seats.
Complete Coverage: Election 2014