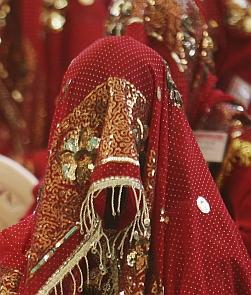 Some Lok Sabha candidates in Haryana, which has the country's lowest sex ratio, are facing a strange demand from bachelor voters -- "get us brides in return for our votes".
"Bahu dilao, vote pao" (Get us a bride for our vote) is the demand of Avivahit Purush Sangthan (Unmarried Union). The outfit was set up by Bibipoor village panchayat head Sunil Jaglan in February, to look into the issue of gender imbalance, caused by female foeticide.
Members of Avivahit Purush Sangthan are putting forward their demand to candidates of different political parties who are coming to their constituencies for campaigning. But so far they have failed to get any positive response from the candidates.
"This (female foeticide) is a very serious problem which, if not tackled now or if proper action is not taken, will have disastrous consequences in the near future," Jaglan told PTI.
On the slogan, he said, "The slogan itself does not mean that all the youth are going to get their partners right now. But it's an effort to attract the attention of the political parties towards the problem."
But Jaglan said, "Except the AAP, prominent candidates from Jind have come to our village seeking votes, but none of them uttered a single word on our demand. Political parties are not interested in serious issues."
According to the 2011 Census, Haryana has 879 females per 1,000 males. Radha Rani, wife of Indian National Lok Dal candidate from Rohtak Shamsher Kharkara, said, "Female foeticide is not an election issue. It's a social problem which can be addressed through social awareness."
Jaglan, who organised an 'anti-female foeticide Mahapanchayat' in Bibipoor a few years ago and is now a proud father of two girls, said, "There are 7,000 villages in the state and in every village on an average, at present, 50 boys are unmarried. It means, around 3,50,000 males are without life partners."
In 2009, the female foeticide issue was raised by a group of youths who took out a march, but it failed to achieve the desired results. According to Jaglan, "Since 2009, the problem has grown manifold."
In Bibipoor village, at the Chaupal, a huge poster welcomes people with a message: "Netaji janiye, Haryana main kunwaron ka ganit (Netaji have a look at the data of unmarried youth in the state)."
The poster gives a glimpse of the total population of the state, the male and female ratios and the number of unmarried youth. In the Sonipat Lok Sabha seat, under which the assembly constituency of Jind comes, Jagbir Singh Malik of Congress, the Bhartiya Janata Party's Ramesh Chander, Padam Singh from Indian National Lok Dal and Jai Singh from Aam Aadmi Party are in the fray.
Avivahit Purush Sangthan, which has a presence on social networking sites such as Facebook and also Whatsapp, has attracted lots of unmarried males to its fold, Jaglan claimed.
According to theatre personality Naresh Prerna, "No major political party has included this issue (female foeticide) in their poll agenda and there is total lack of any honest movement at the grassroots level."
Although Left parties have shown some seriousness, but their base is very limited in the state, Prerna said.