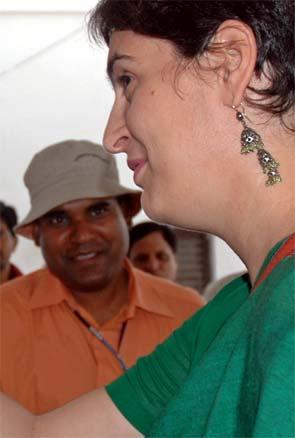 Rahul Gandhi's sister may finally break her self-imposed ban on political life, reports Rediff.com's Sheela Bhatt.
Priyanka Vadra, who has been helping the Congress war-room in strategising its election campaign, may be taking baby steps towards a more active political role.
According to sources in the Congress party in Vadodara, its candidate Madhusudan Mistry is likely to get a helping hand from Priyanka Vadra.
She is likely to campaign for him, and Mistry's campaign managers claim he has already set the ball rolling for the big event.
Mistry is pitted against the Bharatiya Janata Party's prime ministerial candidate Narendra Modi in Gujarat's cultural capital.
Priyanka's possible involvement in active politics has to be seen in the context of senior Congressman Janardan Dwivedi's statement quoting the late Rajiv Gandhi saying how even as a teenager Priyanka was well inclined towards politics.
The way Priyanka's involvement in Rahul Gandhi and the Congress election campaign is unfolding suggests that the Congress is in fire-fighting mode and wants Priyanka to complement her brother whose campaign, they fear, has not struck a chord with many voters.
Congressmen, Dwivedi said, respect Rahul, but adore Priyanka, a statement that can be interpreted in different ways.
Priyanka is also likely to campaign in Allahabad and Phulpur (where former cricketer Mohammed Kaif is the Congress candidate) -- both constituencies once represented by her great grandfather Jawaharlal Nehru -- a Congress source claims.
Priyanka's role has been restricted in earlier elections to Amethi and Rae Bareli, Rahul and Sonia Gandhi's constituencies respectively, but as the Congress faces its biggest crisis, Indira Gandhi's granddaughter is set to bring in major changes inside the party if she takes up an active role in public life.
Image: Priyanka Gandhi. Photograph: Jitendra Prakash/Reuters