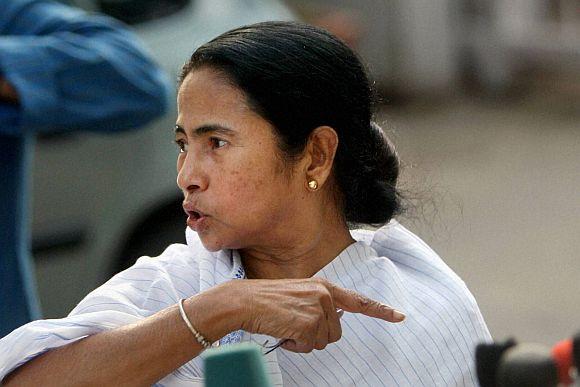 A day after the Election Commission directed the removal of eight officials from poll duty in West Bengal prompting an enraged Chief Minister Mamata Banerjee to threaten to defy the order, the state government on Tuesday requested the poll panel to reconsider its decision.
"Yes, the chief secretary has written to the Commission urging it to reconsider its decision regarding removal of the officers", a highly placed source told PTI.
Election Commission or Mamata, who will blink first? Tell us!
B
He said that in his letter, the chief secretary has also pointed out that the transfers were made and their replacements in the vacancies were done without consulting the state government.
The EC had on Monday ordered removal of five superintendents of police, a district magistrate and two addition district magistrate following complaints against them. It had also named the officers who are to replace the incumbent SPs, the DM and ADMs.
Addressing an election rally, Chief Minister Mamata Banerjee had on Monday taken serious exception to the transfers and said she was not going to accept the order. She had said, "I will not remove a single officer. Let the Commission do it. The transfers were made without consulting the state govenment. I heard that the five SPs have been given transfer orders. Without even asking the state, the (new) names have also been decided".
The state's Chief Electoral Officer Sunil Gupta told PTI, "I heard that the chief secretary has written a letter to the CEC this morning. I don't know the content. Please ask the chief secretary about it."
To a question if he had any communication from the CEC's office in this regard, Gupta said, "I don't have any communication as yet."
West Bengal Advocate General Bimal Chatterjee refused to comment on whether he was consulted by the state government on a possible crisis over the chief minister statement that the EC directive would not be followed.
"I will not say anything on this," he said when contacted over phone.
"The EC's mandate is to conduct free and fair elections. If the officials are not transferred then polls can be cancelled or postponed in those constituencies," a source in the Election Commission told Rediff.com on Tuesday morning.
With inputs from a correspondent