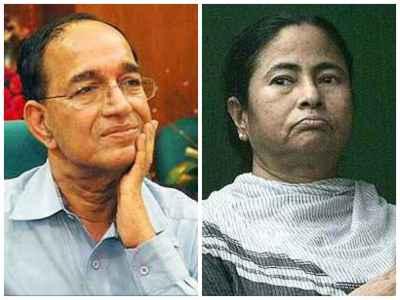 The confrontation between the Election Commission and the West Bengal government escalated by a few notches on Tuesday, with Chief Election Commissioner V S Sampath asking West Bengal Chief Minister Mamata Banerjee to transfer five superintendents of police and one district magistrate (North 24-Parganas) by 2.30 pm on Tuesday, after Opposition parties complained against these officers and accused them of being biased.
The CEC said the Lok Sabha polls can even be cancelled in the state if the government does not heeds its directive.
However, Banerjee will have none of the CEC's tough stand and has turned defiant. She has said that she will challenge the EC to remove anybody while she is charge.
A miffed Banerjee said she is even prepared to be arrested and go to jail but would not allow the officials to be transferred while she is in charge.
Both are tough customers.
The Election Commission, which is tasked with ensuring a level playing field and that governments don't by virtue of being in office misuse their power during poll season, cannot be seen to back off in the face of hurdles from anyone.
Banerjee, ever the rebel, is not known to back off from a confrontation either, after building her political career on her agitationist persona.
So, given the tussle between, who do you, dear reader, think will win this battle of wits?
Tell us all by commenting on the message board below.
Image: CEC V S Sampath and Mamata Banerjee