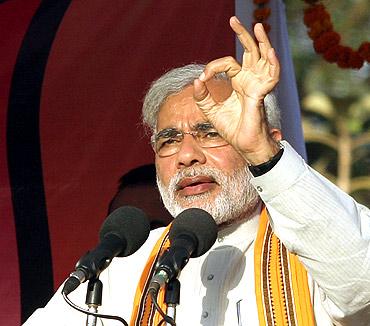 Narendra Modi on Friday accused the Congress of joining hands with non-governmental organisations to run a one-point programme to stop him from coming to power. But, he said that they would fail due to the 'hurricane' support for the Bharatiya Janata Party.
"Normally, political opponents get together to remove the ruling party but it is for the first time that the ruling party along with NGOs and others are running a one-point programme not to save the government or form the government but only to stop Modi from coming to power," he said at a rally in Pathankot, Punjab.
Attacking Congress president Sonia Gandhi and her son Rahul Gandhi, the BJP leader said, "This government run by mother-son has destroyed the country," and claimed the Congress will be decimated in the election. "This election can't save the government at Delhi. No one can save it, but now Congress has changed its strategy in the last 10 days after it came to know that it is not possible to repeat its performance again. Now they have decided to create obstacles to stop Modi from coming to power at the centre."
Exuding confidence that the BJP-led National Democratic Alliance will form the next government, he said, "There is hurricane (of support in favour of BJP) and Congress leaders are aware where they will go after May 16." He added that the Congress would even fail to open their account in many states and their tally would be restricted to single digits in all states.
The BJP prime ministerial candidate was addressing the Bharat Vijay rally in border area in Gurdaspur parliamentary constituency where actor-turned politician Vinod Khanna is contesting. Trying to woo the farmers of Punjab, he promised that if NDA came to power it would ensure remunerative prices to them by adding 50 per cent profit into the input cost. He further said that a major irrigation scheme -- Pradhan Mantri Krishi Seechayee Yojana -- would also be launched.
Complete Coverage: Election 2014