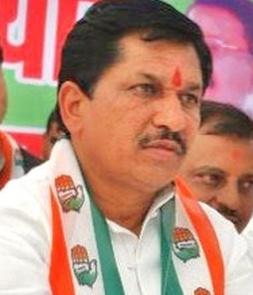 In yet another jolt to the Congress ahead of the Lok Sabha polls in Madhya Pradesh, the party member of Legislative Assembly from Maihar seat in Satna district has joined the Bharatiya Janata Party.
Narayan Tripathi, who joined the BJP in the presence of state Chief Minister Shivraj Singh Chouhan at a function on Tuesday in Satna, is the third MLA from the Congress to join the saffron party after Sanjay Pathak and Dinesh Ahirwar.
The Maihar MLA said he left the Congress as he was being neglected by the party. Tripathi was earlier with Samajwadi Party and later joined the Congress and contested the 2013 Assembly polls from Maihar. On the Satna Lok Sabha seat, veteran Congress leader late Arjun Singh's son and MLA Ajay Singh is pitted against sitting BJP Member of Parliament Ganesh Singh.
The series of Congress leaders quitting the party because of discontentment began with Deputy Leader of the Congress Legislature Party Choudhary Rakesh Singh Chaturvedi joining BJP, at a time when Ajay was about to initiate a debate on the no-confidence motion against Chouhan's government last year.
During the assembly polls, sitting Congress MP from Hoshangabad, Rao Uday Pratap Singh joined BJP as he was not happy with the ticket distribution process. The Congress suffered a major jolt when it's Lok Sabha candidate from Bhind seat, Dr Bhagirath Prasad last month joined the BJP a day after he was declared as party (Congress) nominee from that seat.
Later, it suffered another setback when it's sitting MLA from Vijayragogarh seat, Sanjay Pathak joined BJP in protest against ticket not being allotted to a local candidate from Khajuraho seat.
Besides, MLA Dinesh Ahirwar from Jatara seat in Tikamgarh district also quit the party to join the BJP. Notably, Tripathi had campaigned with Ajay Singh until a day before joining the BJP. He also took part in campaigning with Union minister Rajiv Shukla and Bollywood actress Amisha Patel two days ago in full public glare.
Besides them, former BJP MLA Rakesh Shukla, who was a member if Loktantrik Samajwadi Party, Radhelal Baghel and Mahendra Singh, both ex-MLAs from the bahujan Samaj Party, also joined the BJP on Wednesday.