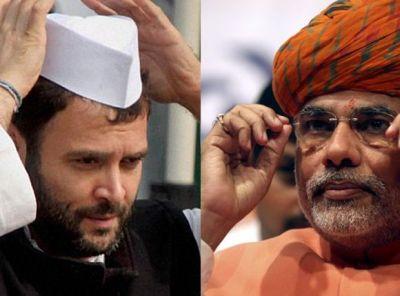 Congress vice president Rahul Gandhi on Sunday sought to boost his party's morale by affirming that there would be a Congress-led UPA-III even as he hit out at Narendra Modi for "inexcusable failure" of governance during the 2002 riots for which he demanded "legal accountability".
Debunking opinion polls predicting heavy losses for the Congress, the party's chief campaigner acknowledged that there was a "certain amount of anti-incumbency against us", but maintained that it would do better than the 2009 elections when it had won 206 seats in the face of similar grim predictions.
Refusing to hazard a guess about the number of seats Congress expected in the Lok Sabha elections because he was not a "soothsayer", Gandhi said, "Congress is fighting a challenging election and we will win the election."
Sharply differing with the views expressed by senior party leader and Finance Minister P Chidambaram that the Congress was an underdog and faced an uphill task, he said, "No it is not an underdog...it is not facing an uphill task."
Gandhi spoke about the election prospects, his main rival and BJP's prime ministerial candidate Modi, the 2002 Gujarat riots and 1984 anti-Sikh riots, BJP's record on corruption and some aspects of his personal life during an hour-long interview with PTI Editor-in-Chief M K Razdan at his residence.
In his sharpest attack on Modi over the post-Godhra riots, he dismissed talk of a clean chit to the Gujarat chief minister as "politically expedient" but "far too premature".
Contending that Modi was answerable on moral grounds, Gandhi said, "Beyond that there should be a legal accountability for the clear and inexcusable failure of governance under him".
Gandhi was answering a question on BJP's contention that Modi had been given a clean chit by the Supreme Court- appointed SIT and the courts and, therefore, he had nothing to answer for or apologise for about the post-Godhra riots.
He replied, "As you know, the SIT report had been seriously questioned by a number of credible experts. Grave flaws have been pointed out in the functioning of the SIT. The acceptance of the flawed SIT report by the lowest court has not yet been subjected to judicial scrutiny by higher courts.
"The specific allegations and evidence pointing to Mr Modi's responsibility in the 2002 riots are yet to be adequately probed. Any talk of his having been given a clean chit may be politically expedient, but is far too premature. There are many unanswered questions. There is a lot more the country needs to know," he said.
Answering a question on the failure of the government and the party to communicate with the people, Gandhi admitted, "I think certainly we could have been more aggressive in conveying our achievements. As I said, we have done transformatory work. We could always be better in communication."
Rubbishing the perception that Congress was losing allies, the party vice president said that it had alliances with Nationalist Congress Party, Rashtriya Janata Dal, Jharkhand Munkti Morcha, Rashtriya Lok Dal dnd the National Conference but had lost the DMK and the Trinamool Congress.
Asked if the Congress could "do business" with TMC and DMK again, Gandhi replied, "We are always willing to work with people who share our ideology and political philosophy, who are determined to fight sectarian and communal forces that seek to divide India for narrow political gains."
Contending that his power was being "overestimated", Gandhi disclosed that he had differed with the government on a number of issues but "I have been overruled."
Asked to cite examples, he said that "one very large public place where I was overruled" was on the question of making Lokpal a Constitutional body. "I had a different view from the senior members of the party and I was overruled."
Another instance cited by him pertained to the Ordinance to nullify a Supreme Court order disqualifying convicted lawmakers in which he had a view different from senior members of the party but was initially overruled.
"Then I took the step of making my views public," he said in an obvious reference to a press conference at which he had declared that the Ordinance should be torn away. He was articulating the public opinion and the party had listened to that.
In a reference to the controversy triggered by his going public aggressively on the issue while Prime Minister Manmohan Singh was in the US, the Gandhi scion acknowledged that "in hindsight that it could have been done in a better way".