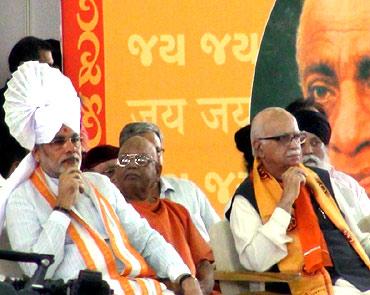 Gujarat Bharatiya Janata Party on Tuesday decided to recommend the name of veteran leader L K Advani to contest the Lok Sabha election from his Gandhinagar constituency.
The state party unit will also strongly recommend that BJP's prime ministerial nominee Narendra Modi should also contest from his home state too as it is the "wish and demand of people of Gujarat as well as party workers."
The decision to make these recommendations to the party's central leadership was taken by the state parliamentary board, which met in Gandhinagar on Tuesday at Chief Minister Narendra Modi's residence.
Party state unit president R C Faldu will take the recommendations to Delhi, where BJP's central election committee is likely to take a final decision on the candidates from Gujarat on Wednesday.
"Out of the 26 seats of the state, we have finalised panel of three names (each) for 25 seats, barring only one constituency of Gandhinagar. On the Gandhinagar seat we have recommended party leader L K Advaniji," state BJP general secretary Vijay Rupani told PTI.
There were speculations that BJP may field Modi from Gandhinagar and like senior leader Murli Manohar Joshi, Advani would also be told the fight elections from another seat.
Advani had earlier staked his claim for the seat, from where he has successfully contested and won five times.
Speaking about Modi's candidature, Rupani said, "The state unit has strongly recommended that the six crore people of Gujarat and party workers have overwhelmingly wished and demanded that Narendrabhai Modi should also contest elections from one seat of Gujarat."

The party has already announced that Modi will contest elections from the temple town of Varanasi in Uttar Pradesh, a seat of Joshi who has been asked to contest from Kanpur.
"The final decision about Modi and Advani will be taken by the Central Election Committee during its meeting to be held tomorrow in Delhi," he said.
In reply to a question if state BJP parliamentary board recommended any seat from Gujarat for Modi, Rupani said, "There were demands from many seats like Ahmedabad, Surat, Rajkot and Vadodara. But we have not given any names of the seat from where Modi should contest."
Earlier also, Rupani had said that Modi will contest elections from one seat in Gujarat.
Voting for the Lok Sabha elections in Gujarat is scheduled on April 30.