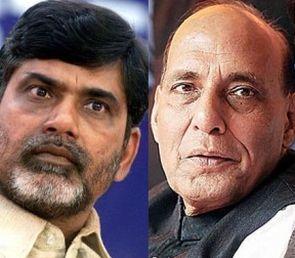 After weeks of bargaining, discussing and protesting, the Bharatiya Janata Party and the Telugu Desam Party have come to an agreement on a seat sharing arrangement in Andhra Pradesh.
The BJP will contest 8 parliamentary seats in Telangana out of the 17 and in Seema-Andhra it would fight in 5 of the 25 constituencies. In the assembly, the BJP will fight 45 and 15 seats in Telangana and Seema-Andhra respectively.
The BJP had in principle cleared the alliance last week when it was decided that there would be no alliance with the Telangana Rashtra Samithi or YSR Congress party.
Not everyone is happy with the decision in the district units of the BJP, especially in Telangana, but the national leadership has more or less brought many on board. The national leadership has made it clear that there will be a pre-poll alliance at any cost.
The decision, according to sources, was taken on Monday and the seat sharing was finalised on Thursday. The delay in announcing the decision was due some
However it took a few more days to announce the same due to disagreements over the Visakhapatnam constituency. The TDP was unwilling to let go but later relented. The BJP had also demanded Ongole and Nellore but had to forgo it in favour of the TDP.
Follow the latest election updates on Twitter: @RediffElections
Image: Telugu Desam Party president N Chandrababu Naidu and BJP president Rajnath Singh