The Bharatiya Janata Party-Telugu Desam Party alliance in Andhra Pradesh has run into rough weather over seat sharing. Rediff.com's Vicky Nanjappa reports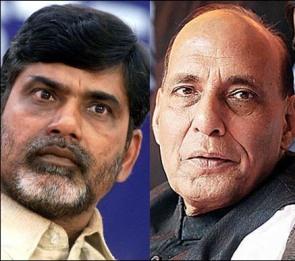 Even though, in principle, the BJP and TDP have agreed that there would be a tie up ahead of the Lok Sabha elections, the issue of seat sharing has soured relations.

The BJP is willing to let the TDP have a major share of the seats in Seema-Andhra, but in Telangana they want the lion's share.

The BJP feels that it stands a much better chance of performing better than the TDP in Telangana.

Moreover, the fact that the BJP will consider two MP's from Telangana for Cabinet role in future has made the Telangana leaders demand more seats.

The BJP claims that it was the first party to say that it was in favour of Telangana and that the Congress could only push the Bill through since it had decided to support it in Rajya Sabha and Lok Sabha.

In Telangana, the BJP will not settle for anything less than 70 assembly seats and 9 Lok Sabha constituencies.

The Lok Sabha constituencies include Hyderabad, Secundarabad, Ambarpet, Mehboobnagar, Nalgonda, Medak, Nizamabad, Karimnagar and Malkajgiri.

The party believes that it can win at least 15 to 20 in the assembly segment and 4 to 5 in the Lok Sabha.

In Seema-Andhra, the BJP wants five Lok Sabha constituencies and 25 assembly seats.

The BJP is aware that it is not on a very strong footing here but would want to make its presence. Moreover, they have their hopes slightly raised high with popular actor Pawan Kalyan agreeing to campaign for them.

The filing of the nominations is just 10 days away and both parties will have to come to an understanding soon.

A series of meetings are likely to be held on Monday to finalise the issue.