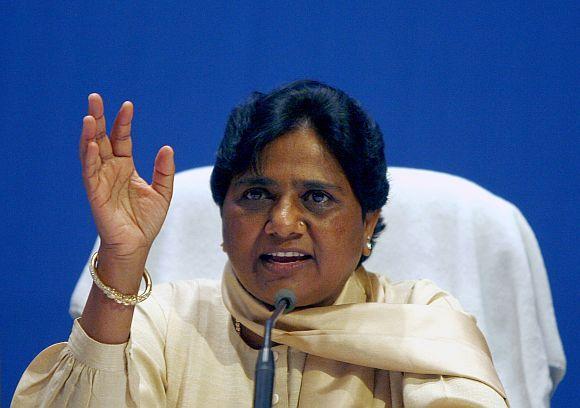 Terming Narendra Modi's rally being denied in the temple town and the ensuing protests from the saffron party leaders in Varanasi as a "new drama", Bahujan Samaj Party supremo Mayawati has alleged that the Bharatiya Janata Party in connivance with the Samajwadi Party was "doing" this to influence the elections on the remaining seats in the state.
"The elections in 18 seats are left in which BJP and SP stalwarts Narendra Modi and Mulayam Singh are contesting from Varanasi and Azamgarh seats. Despite playing caste and communal cards, the position of these parties were getting worse, and so they have started enacting a new drama and conspiracy in Varanasi from yesterday", Mayawati told reporters.
"They are doing this to give Hindu-Muslim colour to elections in remaining seats to take political mileage", she alleged, adding that religious programme of Ganga puja was planned by BJP (in Varanasi) for political gains, in connivance with the SP.
She claimed that Samajwadi Party used the district administration of Varanasi to "benefit" BJP and vitiate atmosphere of free and fair election and "influence Muslims".
"SP is trying to give a message to Muslims of eastern UP that only it can deal with BJP. This, however is not true", she said.
"It is well known that when BJP failed to vitiate the atmosphere in western district besides Faizabad and Amethi, in connivance with SP it started a new kind of drama in Varanasi adopting the policy of controversy to influence the elections on the remaining seats", she alleged.
Mayawati criticised Modi and other partymen, specially Amit Shah, for allegedly creating communal and casteist disputes with ill intentions.
"SP has given a chance to BJP to create a wave in its favour by holding dharna. This could have been averted had SP wanted so. Even if there is a security issue, it was the duty of SP government to ensure it", Mayawati said.
Top BJP leaders including Arun Jaitley today held protests in Varanasi against the Election Commission and the returning officer who had denied permission to Modi for holding a public meeting at a venue of his choice.