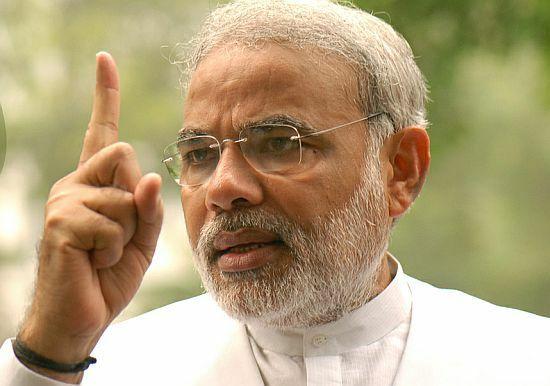 Miffed over being denied permission to hold a rally in Varanasi, Bharatiya Janata Party's prime ministerial candidate continued his attack against the Election Commission and accused them of being biased.
Narendra Modi alleged that polling in the last three phases of the Lok Sabha elections in Uttar Pradesh, Bihar and West Bengal had not been fair. "In UP, Bihar and West Bengal, there were reports of serious malpractices in the last three phases. I want to tell the EC that I had warned them on April 24 that they were not discharging their responsibilities well. Polling should be free and fair but in the last three phases it did not happen," Modi alleged.
Complete Coverage: Elections 2014
Holding a rally in Azamgarh for BJP candidate Ramakant Yadav, who is contesting against Samajwadi Party president Mulayam Singh Yadav, Modi said, "I accuse the Election Commission of not being impartial."
The Gujarat chief minister also attacked the SP supremo saying, "Governments are supposed to do good for people but these people here are doing good for themselves and their family only." Attacking the SP, the Bahujan Samaj Party and the Congress, Modi added, "Congress, SP and BSP are no different. They fight here but have meals together in Delhi with Madam (Sonia) being their host."
Modi charged that all three parties never raised their voice against corruption, price rise or in favour of farmers or workers. "Their only refrain is 'stop Modi', they don't have any agenda except stop Modi. Because they are aware that if on May 16, Modi comes to power, what their place will be," he said.
Highlighting the plight of sugarcane farmers in the region, the Gujarat chief minister alleged they were not getting their dues and forced to sell their produce at a fraction of the actual price. Referring to the BJP manifesto, he said the party had devised a formula as per which the Minimum Support Price will be 50 per cent more than the total input cost incurred by farmers, which will ensure that get a good price for their produce.