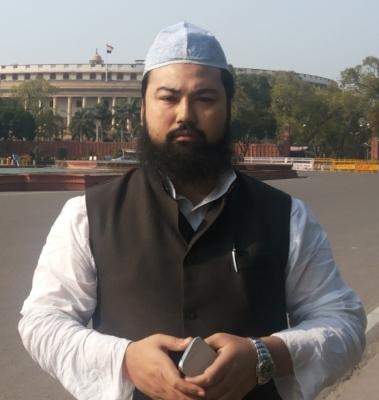 Meraj Khalid Noor, who is popularly known as Bihar's Osama bin Laden for his uncanny resemblance with slain most-wanted Al Qaeda chief Osama Bin Laden, has said that he will contest the Lok Sabha polls against the Bharatiya Janata Party's prime ministerial candidate Narendra Modi from Varanasi. M I Khan reports
"Soon, I will visit Varanasi to file my nomination papers," the bearded, tall and well-built Noor, who stays at Millat colony in Phulwari Sharif in Patna, said.
Noor said he will contest as a candidate of Rashtriya Awami Movement-India, a political outfit.

He said in chaste Hindustani(a mix of Hindi and Urdu)"Maine Modi ke khilaf chunao ladne ka faisla kiya hain koynki Modi insaniyat ke dushman hain, aantak ke prateek hain, desh ke ekta aur communal harmony ke villain hain (I have decided to contest against Modi because he is an enemy of humanity, a symbol of terror and villain of unity and communal harmony)."

Noor told rediff.com "Modi Varanasi ki pavitra dharti ko napak karna chahte hain, jo wyakti Mahadev se apne aap ko upar samjhne lage aur Bhagwan Ram ka naam apne labh ke liye istemal karein, uske khilaf chunao ladna jaroori hain (Modi will contaminate Varanasi's holy land, anyone who thinks he is above Lord Shiva and uses the name of Lord Rama for his own profits. It becomes very important to fight the election against such a person)," he said.

His outfit Ram-India is working for unity and communal harmony between Hindu and Muslims. Patna-based Noor was once the favourite of Rashtriya Janata Dal leader and former chief minister Lalu Prasad Yadav and the Lok Janshakti Party's Ram Vilas Paswan to woo Muslim votes.

It is a different matter that in the ongoing Lok Sabha polls, Noor has become an untouchable for Lalu and Paswan. He had campaigned in the 2004 Lok Sabha polls for Paswan's LJP and Lalu's RJD during the 2005 assembly elections. He now complains that Lalu and Paswan 'used him' to attract Muslim votes to their parties.

He admitted then it was his mere resemblance to the then world's most wanted man that was capitalised on as "I am neither a good speaker nor a leader with any support base". In Patna and across Bihar, nobody remembers his real name. Everyone calls him bin Laden.
According to local residents, Noor took the political plunge in 2004 when he sought ticket from Paswan's LJP to contest the assembly polls. He was turned down. But Paswan asked Noor to campaign for his party. Paswan would introduce him as "Osama bin Laden" at election rallies. Noor switched over to the RJD in September 2005 and campaigned for Lalu Prasad.

Noor was so much in demand that Paswan and Lalu Prasad would invariably find a seat for him on their campaign helicopters, even it came at the cost of dropping a senior party leader.

But for all his looks, Noor is no hardliner.
He is the grandson of Kazi Muzahidul Islam, a former president of the Muslim Personal Law Board. His father, Noor Ahmad, was a close associate of veteran socialist leader George Fernandes.

Such was Noor's image that even Modi once made a mention about him. The late BJP leader, Pramod Mahajan, had accused Lalu and Paswan in 2005 of glorifying 'the most wanted terrorist in the world' by asking Noor to campaign for them.

Noor, however, remained in high demand. Today, it is a different story. With Osama dead and Modi in charge of an aggressive BJP campaign, Noor is truly a political untouchable.