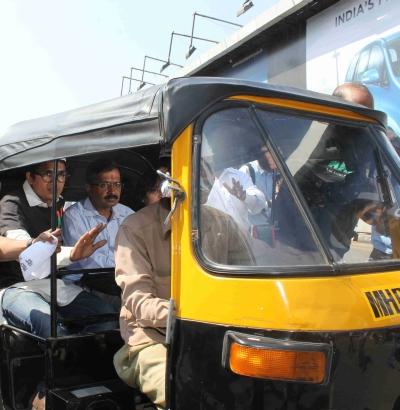 The police on Wednesday fined the driver of the autorickshaw, which ferried Aam Aadmi Party leader Arvind Kejriwal to suburban Andheri railway station from the Mumbai's domestic airport, for violation of the Motor Vehicle Act by carrying more than three passengers.
After landing in Mumbai, Kejriwal boarded the autorickshaw to travel a five-km distance to the railway station from where he took a local train to reach Churchgate in south Mumbai.
Additional Commissioner of Police Quaiser Khalid said the auto driver was fined for carrying more than three passengers in the vehicle.
"Since there is a violation of Motor Vehicle Act, we have taken action against the errant driver and fined him accordingly," Khalid said.
According to sources, the police also slapped a fine on those autos, which were part of Kejriwal's convoy under the same provision.

Image: AAP's Arvind Kejriwal with other party leaders outside Andheri station, Mumbai
Photograph: Milind Tambe