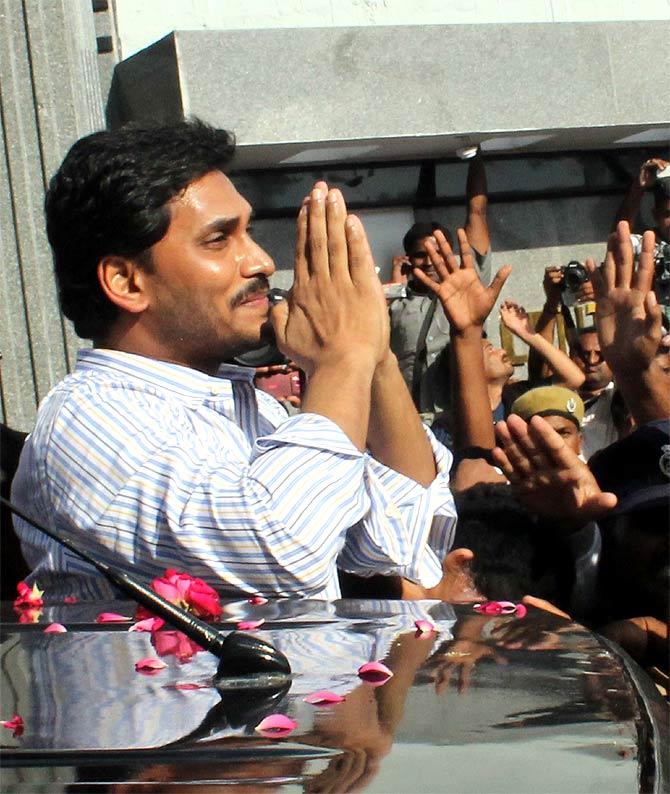 Terming as "very cruel" the way bifurcation of Andhra Pradesh was done, YSR Congress Party president Y S Jaganmohan Reddy on Wednesday said that he has kept open all options on post-poll alliance.
"We should keep all our options open. Why should we be in hurry to support somebody? We have no pre-poll alliances (or) understanding with any body. All our options are open," he told reporters after casting his vote.
"The most important thing would be the way the state is bifurcated. It's very cruel," he said when asked about the key issue in the polls for the region.
Jaganmohan Reddy, his mother and YSRCP honorary president Y S Vijayamma and other family members cast their votes at Pulivendula in native Kadapa district, where he is contesting for assembly polls for the first time.
Jagan's wife Y S Bharathi said the Telugu Desam Party-Bharatiya Janata Party alliance in the state was of least concern and exuded confidence in her husband's and his party's victory in the elections.
"As far as Andhra Pradesh is concerned, I don't think people are going to believe anybody. They have seen Chandrababu Naidu for three and a half decades, since then he has been in politics. They have seen him as the most dishonest leader. Not a word he said people would believe," she said after casting her vote.
Earlier too, Jaganmohan had said that his party would decide on extending support in the post-poll scenario in the best interests of Andhra Pradesh.
TDP and BJP have electoral alliance in both Telangana and Seemandhra.
Polling is underway in 25 Lok Sabha constituencies and 175 legislative assembly seats in Seemandhra region -- comprising of Coastal Andhra and Rayalaseema.
About 17 per cent polling was witnessed in the first two hours in Kadapa district.
Barring a few incidents of stone pelting and clashes between workers of YSRCP and TDP, polling largely remained peaceful.
The Parliament gave its approval on February 20 for the creation of Telangana by bifurcating Andhra Pradesh. Telangana, country's 29th state, will be born on June 2 and start functioning from that day.