Life inside the prime minister's official residence is highly regulated, but it comes with its perks, says Veenu Sandhu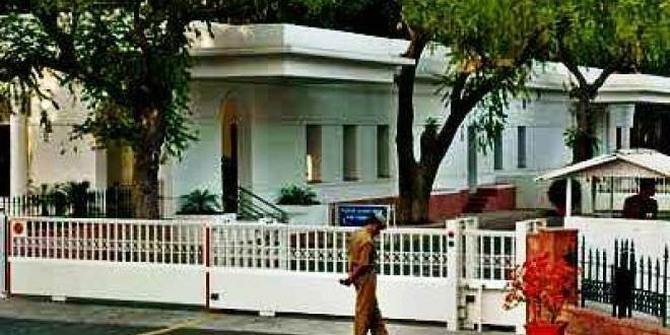 The prime minister's official residence for the last 30 years, 7 Race Course Road, or 7 RCR, is a misnomer.
It is not one house but a cluster of five bungalows -- Numbers 1, 3, 5, 7 and 9 -- on an avenue lined with putranjiva trees.
Bungalow 1 has a helipad. Bungalow 3, white in colour, is where Manmohan Singh has lived with wife Gursharan Kaur for 10 years.
Before him, Atal Bihari Vajpayee and Rajiv Gandhi lived in Bungalow 5.
There is a good chance that Narendra Modi will opt for 5 RCR which in Singh's time was used for guests.
The complex is called 7 RCR because Bungalow 7 is the prime minister's official workplace, apart from his office in South Block.
Bungalow 9 RCR is where the Special Protection Group, the elite force responsible for the prime minister's security, is housed. This bungalow has a tennis court.
"These aren't big bungalows. His house has just two bedrooms, an additional room, a dining room and the main living room that can, at a stretch, accommodate about 30 people," says a relative of Dr Singh.
In comparison, the house Dr Singh occupied when he was finance minister -- 8 Krishna Menon Marg (Vajpayee lives there now) -- was huge, with a central gallery, six bedrooms, five toilets, a guest wing, three kitchens, office space and 12 servant quarters.
The lawns at 7 RCR, however, beat everything else.
"They are massive, manicured and big enough to run a horse," says the relative.
Vajpayee would often sit in the lawn to read his morning newspapers.
The abundant gulmohar, semal and arjuna trees growing on the premises are also home to several birds, including peacocks.
Getting a peep into life here is not easy.
Photographs of the place, apart from some sorry shots of ministers walking in and out of the veranda, are impossible to get.

Asked for such pictures, an official at Press Trust of India, the country's largest news agency, exclaimed, "What? It's out of the question."
Ask officers in the information & broadcasting ministry and the reply is standard: you need top-level clearances.
But that won't help either because "even for state dinners, the shots are kept very tight so that not many details of the space are revealed," says an information officer.
Compared to this, the White House and 10 Downing Street, residences of the US president and UK prime minister respectively, offer virtual tours of the premises.
"There is only one entrance to 7 RCR and that is guarded by SPG," says Sanjaya Baru, Singh's former media adviser and author of The Accidental Prime Minister: The Making and Unmaking of Manmohan Singh.
"The first building you come to when you enter is 9 RCR. Further ahead is the parking and then the reception area. Beyond this is the even more heavily guarded enclosed space that houses 7, 5, 3 and 1 RCR."
Relatives can't drop by unannounced. Friends cannot simply turn up to meet the prime minister.
"Only those visitors whose names have been given to SPG by the prime minister's personal secretaries are allowed in," says Baru.
The rule applies to everybody -- including the national security adviser, top bureaucrats, relatives and guests (barring close family). Visitors are expected to carry an identity card.
Once that barrier is crossed, SPG ferries the visitor to the prime minister.
There is a dedicated fleet of cars - Tata Nanos, at one point of time - for that. The residential bungalow has an additional ring of security.
Nearby high-rise Hotel Samrat cannot let out the top four floors: these have been taken over by the government.
The whole area is a no-fly zone.
This fenced fortress offers many perks that the residents of much bigger bungalows in Lutyens' Delhi can only dream of.
For example, it has a power substation (there is no question of 7 RCR ever facing a blackout), doctors and nurses from the All India Institute of Medical Sciences on duty round the clock and an ambulance on standby that always accompanies the prime minister's motorcade -- it includes six BMWs, all made to order during Vajpayee's tenure.
Two are used by the prime minister in Delhi, two are for VIP guests and the remaining two are flown with the prime minister wherever he travels in the country.
The workplace at 7 RCR has two small rooms on either side as you enter for each of the two personal secretaries.
Then there is a small corridor with a visitor's room to the right. Further ahead is a chamber to meet guests. Adjacent to that is the living space for larger meetings, behind which is the dining room where breakfast and lunch meetings are hosted.
A corridor from 7 RCR takes you to Panchvati which can be segmented into two or three conference rooms or a large banquet hall. This is where Singh hosted David Cameron, George Bush, Hillary Clinton and Barack Obama.
On the walls are artworks loaned by the National Gallery of Modern Art. An NGMA official says the works are changed every now and then, in consultation with the prime minister's office.
During visits abroad, the prime minister collects a number of gifts -- Dr Singh received paintings, mementos, metallic bowls, tea sets -- which are either displayed at 7 RCR or sent to the toshakhana (treasure house).
Not just art, even films travel to 7 RCR. In 2006, soon after Lage Raho Munna Bhai released, Raaja Kanwar, who was then the director of UFO Moviez, which specialises in digital cinema, organised a private screening at 7 RCR.
"We received a call from the prime minister's office for a private screening at Panchvati for the prime minister, his family and a few members of his office," says Kanwar.
"Later, private screenings of Taare Zameen Par and Peepli Live were also organised."
The portable system consisting of a server and a digital projector was brought into 7 RCR after the usual security checks.
Barbers, tailors and stylists too are a phone call away.
"We would get a call from 7 RCR whenever the prime minister needed new clothes stitched," says Singh's regular tailor, Karan Vadehra of Vadehra Tailors in Connaught Place.
"He would have himself measured wherever he was comfortable, at times in the waiting area at his residence."
Vajpayee had a similar routine.
"The only person Vajpayee would go to was his dentist at Khan Market because the dentist's chair could not be brought to 7 RCR," says Harsh Shrivastava who was Vajpayee's deputy speech writer.
Keeping 7 RCR functioning efficiently requires an army of workers.
Besides the secretarial staff, it has a support staff of about 50 gardeners, peons and electricians.
They are employed after a thorough background check. "All those who have an SPG pass for 3 RCR have to go through an even more detailed background check, including police verification and questioning of their former employers, neighbours and landlords.
This applies for everyone, not just the support staff," says Shrivastava.
There are no quarters on the premises.
Staff comes in every day and leaves after the day is over. Some of the staff here has been around for decades.
These are people who can be trusted to go about their jobs with their lips sealed.
"One such person was Vijay Kumar, a research assistant who had been at 7 RCR from the time of H Y Sharada Prasad, the media adviser to Indira Gandhi and Rajiv Gandhi. Kumar died recently," says Baru.
There is, of course, the personal staff which the prime minister or his family picks -- the cook, assistant and some secretaries for confidential work.
This is the only staff than can be hired and fired by the prime minister or his family. One such incident did take place during Dr Singh's tenure when Gursharan Kaur fired a cook for serving chapati with ghee and some fried food to Dr Singh against the doctor's orders.
Family meals are the way they are in any household: regular food and regular crockery and cutlery.
But elaborate official events are when the finest is revealed. One of Singh's relatives who attended an official lunch recalls that the cutlery was embossed with the Ashoka Chakra.
"I really wanted to flick one for keeps," he says.
The last time 7 RCR underwent large-scale renovation was in 2004, before Dr Singh moved in. It had cost Rs 7 crore to renovate his bungalow.
Work is on again before Modi moves in.
One view is that he will convert one of the bungalows into space for his public relations team.