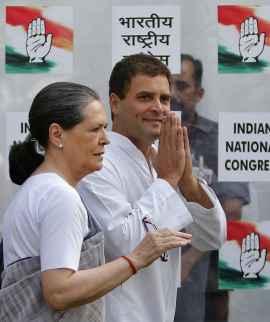 A Ganesh Nadar/Rediff.com reports on Sonia Gandhi and Rahul Gandhi's much-anticipated press conference following the Congress debacle.
At 1230 hours on Friday, May 16, a colleague called me at the Bharatiya Janata Party headquarters in New Delhi and asked me to rush to the Congress headquarters as party Vice-President Rahul Gandhi was expected to address a press conference shortly.
Other journalists warned me to be there as early as possible as the Special Protection Group would not allow anyone in after the great man arrived.
We ran as if our tails were on fire and reached the venue at 1300 hours. At 1400 hours we were told that the much-anticipated press conference had been postponed to 1600 hours.
At 1600 hours, the SPG arrived and the journalists breathed a sigh of relief. The press conference was finally on. Some said Rahul was coming, others said Congress President Sonia Gandhi would address the media.
The SPG quickly demarcated a small area in between the gathering and surrounded it with police barricades that they had brought in from the road outside. Soon journalists were herded out of the cordoned off zone and were told that 'Madam' would not appear till everyone was behind the ropes.
Madam was going to walk in from her home which is adjacent to the Congress headquarters. A red carpet was laid out for her.
The SPG tapped every inch of the red carpet to make sure it was secure.
Finally satisfied, they spoke softly into their black phones.
Congress Treasurer Motilal Vora came forward bravely. Then came in Rajeev Shukla who spoke to some journalists and did not appear concerned at the drubbing his party had just received.
Then Mother and Son arrived. It was going to be a family press conference after all.
"I am the Congress vice-president and I accept full responsibility for this defeat" was all that Rahul said.
Sonia added two more lines. "I am the Congress president. I accept full responsibility for this defeat. I would like to congratulate the new government and we accept the people's verdict with all humility. Thank you."
Then, Ma-Beta, as the next prime minister referred to them in his election speeches, left.
At 5 pm, the media interaction was over.
We had waited four hours for a two-minute performance.
Long live the dynasty. But there was no one to shout slogans for the Gandhis today.
Image: Congress President Sonia Gandhi and Vice-President Rahul before the press conference in New Delhi on Friday, May 16, 2014. Photograph: Anindito Mukherjee/Reuters