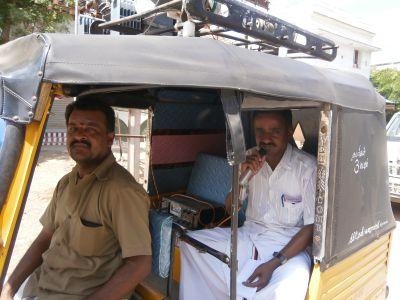 A lone ranger braves the summer sun to get the party's message to voters in a small town in Tamil Nadu. Rediff.com's A Ganesh Nadar reports.
There are hundreds of them in every party. They work, they toil, they grin and bear it while their leaders get the benefits. These are the backbone of every party.
When J Jayalalithaa says 'En ratthathin ratthamey, en kannin oliyey, kazagathin kanmanigaley (Blood of my blood, the light of my eyes, my party' dear ones)', they go mad with joy. They sing, they dance, they will do anything Amma (as the Tamil Nadu chief minister is known to her All India Anna Dravida Kazhagham cadres) tells them.
Why they are so devoted to the party no one knows. People presume that they are getting something from the party which makes them stick with them through thick and thin.
In Tirupattur town in Tamil Nadu, the sun was at a merciless high. The town has 18 wards. To canvass these wards, the Dravida Munnetra Kazhagam had deputed an autorickshaw with a mike/speaker and one man to promote the DMK and its candidate. The man never uses a CD/cassette to make his announcements.
This is a VIP constituency where the nation's Finance Minister P Chidambaram is the incumbent MP. His son Karthi is contesting this election on a Congress ticket after Chidambaram declined to do so. Many feel that it is a straight fight between the ruling AIADMK and the DMK. The Congress and Karthi Chidambaram are not in contention, locals say.
Shahjehan is 41 years old though he looks younger. He works 14 hours a day, going around the town in the autorickshaw making announcements praising the DMK. He is paid Rs 500 a day.
"I start on my rounds at 7.30 am and keep moving till 9.30 pm, after that people will get disturbed. Even the Election Commission says no campaigning after 10 pm," he says.
He speaks about DMK leader M Karunanidhi, the party's heir apparent M K Stalin and then the candidate. He doesn't say much about the candidate apart from mentioning his name. The DMK symbol -- the rising sun -- is mentioned more often.
Shahjehan started canvassing from April 2 and will end his assignment on April 22, two days before Election Day. The autorickshaw driver, who is also a DMK supporter, also gets Rs 500 a day and money for fuel. The microphone and loudspeaker belong to the party.
Shahjehan has been doing this for 18 years since the 1996 election which voted out Jayalalithaa's first government and brought the DMK back to power.
He does not have a regular job, but is called upon to speak at every party event in the area. "I dabble in real estate," he says. "But that is pure luck, it cannot be relied upon as a regular income."
What happens if there is no party event in a particular month and no real estate deal materialises? "My party's district secretary looks after me. He always makes sure I have enough for my needs," says Shahjehan.
Whether the DMK is in power or out of it, the party does look after its own.
Other party workers put up posters and banners, take people to rallies, cater to every demand of the local leaders for a fee.
As we leave, I hear him say: "Ungal ponnaana vaakkugalai Udaya Suriyan chinnathil podungal, periyorgaley, thaimargaley, marandhu vidatheergal, marandhu irundhu vidatheergal, varugira paralumandrathu therdhalil ungal chinnam Udaya Suriyan. (Please cast your golden vote for the Rising Sun. Elders, ladies, do not forget, do not forget and stay at home. In the coming parliamentary elections, your symbol is the Rising Sun)".
Photograph: A Ganesh Nadar/Rediff.com