Both Lok Sabha and Rajya Sabha worked more than their scheduled time during the special session of Parliament.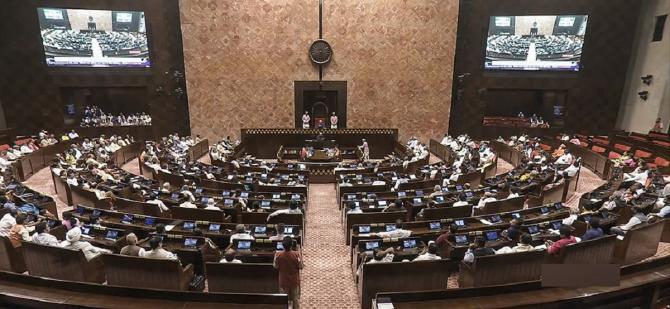 It was also the only session in the 17th Lok Sabha when the lower house did not lose any time due to adjournments, according to data compiled by a think tank.
The special session which concluded on Thursday, a day ahead of its schedule, saw the historic women's reservation bill being passed by both houses -- the only bill to be passed in this session.
Discussions on 75 years of Parliament and the success of Chandrayaan 3 were also held.
According to the data compiled by PRS Legislative Research, Lok Sabha sat for over 31 hours, around eight hours more than the scheduled time of 22 hours 45 minutes.
This makes the working time of Lok Sabha around 137 per cent of its scheduled time.
Rajya Sabha functioned for 27 hours 44 minutes, against a scheduled time of 21 hours 45 minutes, working for 128 per cent of its planned time.
Lok Sabha Speaker Om Birla had announced at the end of the session that the productivity of the lower House was 132 per cent for this session, which was revised later to 160 per cent.
No time was lost to adjournments in this session in Lok Sabha. Rajya Sabha lost around one and half hour to adjournments.
The data showed this session had second highest productivity so far. In the Monsoon Session of 2020, Lok Sabha functioned for 145 per cent of its scheduled time.
The PRS report added that Lok Sabha spent 64 per cent of its time in the special session on debates and 33 per cent on legislative business.
Rajya Sabha meanwhile spent 51 per cent of its time on debates, and 45 per cent time in passing the lone women's reservation bill.
Five bills were listed for consideration and passing as part of the agenda for the session, however, none of them were taken up during the session.
Lok Sabha discussed The Constitution (128th Amendment) Bill - to provide one third reservation to women in the houses of people - which was introduced on September 19, lasted around 10 hours.
A total of 60 members, including 32 women, participated in the discussion. The bill was passed with near unanimity, with two MPs from AIMIM voting against it.
According to the Lok Sabha secretariat, discussion on the parliamentary journey of 75 years initiated by Prime Minister Narendra Modi lasted for six hours and 43 minutes and 36 members participated in it.
The discussion on the success of Chandrayaan-3 mission in Lok Sabha lasted for 12 hours and 25 minutes and 87 members participated in the discussion.
In Rajya Sabha, the women's reservation bill was discussed for over 12 hours, according to PRS data. Over 14 hours were spent of debates in the upper House.