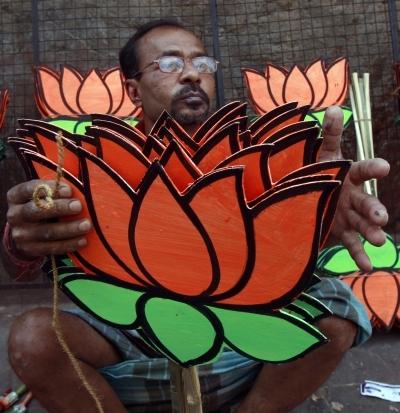 After breathing fire over 'love jihad', Bharatiya Janata Party dropped any mention of it in the political resolution at its two-day state executive meet that concluded on Sunday.
Love Jihad ( the term coined for marriage between a Muslim man and a Hindu woman), especially in the western parts of Uttar Pradesh, has been taken up by BJP as a big challenge ahead of the assembly elections three years hence as part of its moves to consolidate the party base in the state.
In his inaugural address on Saturday, state party chief Laxmikant Bajpai had asked youths to be vigilant on the issue of love jihad, questioning whether men of the minority community have got the licence to convert and rape women of majority community.
However, interestingly, the political resolution passed on Sunday did not have any reference to 'love jihad'. When asked why the resolution was silent on love jihad, Bajpai, when contacted, said, "It was not on the agenda, so there is no question of having it in the resolution."
BJP asked its workers to strengthen the organisation from the booth level so that it can come to power in the state with thumping majority. It asked partymen to launch a people's movement against "complete anarchy and lawlessness" and oppose "communal appeasement and crumbling law and order". BJP said the people were fed up with the Samajwadi Party government and were looking forward to good governance by BJP.
It said that during SP's 30-month-rule, a number of murders, rapes, thefts and abductions had been reported, but the government was not taking appropriate actions, reflecting its "total failure".
Bajpai said all BJP MPs in the state would sit on dharna in Lucknow on October 1, while MLAs to panchayat members would do so in their respective districts against SP government.