Prasanna D Zore/Rediff.com recaps the emotions on a day Bihar waited with bated breath.
It doesn't get bigger than this.
And tense too.
More so, if you were a party worker of Bihar Chief Minister Nitish Kumar's Janata Dal-United and Lalu Prasad Yadav's Rashtriya Janata Dal.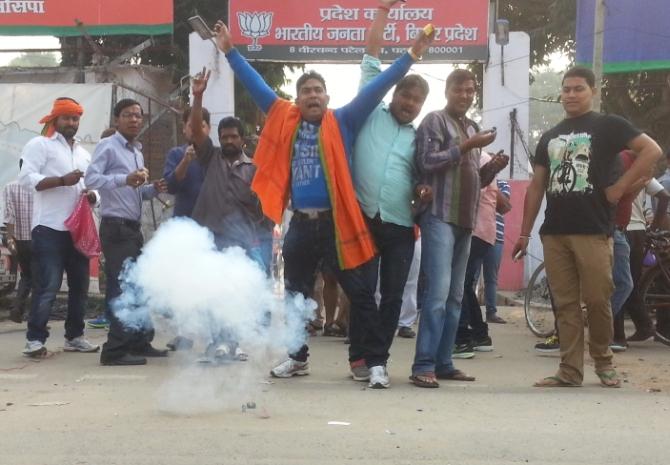 IMAGE: BJP supporters cheer as early reports putting the party ahead come in. The mood changed soon. All photographs: Prasanna D Zore/Rediff.com
Between 8 am and 9 am, on Sunday, November 8, when early leads indicated a surge in favour of the Bharatiya Janata Party, the mood outside the JD-U and RJD offices in Patna changed from calm and confidence to despair and confusion.
While BJP workers were confident the party would win an absolute majority with at least 150 seats in the 243 seat assembly, their opponents were sombre and measured in their response.
Soon, the electoral pendulum swung the other extreme.
A little past 10 am, the mood at the JD-U and RJD offices transformed from gloom to jubilation and merriment.
BJP supporters who began their day on a boisterous note began leaving the party office by noon as leads indicated a sweep for candidates of the Mahagatbandhan that includes the Congress, along with the JD-U and RJD.
***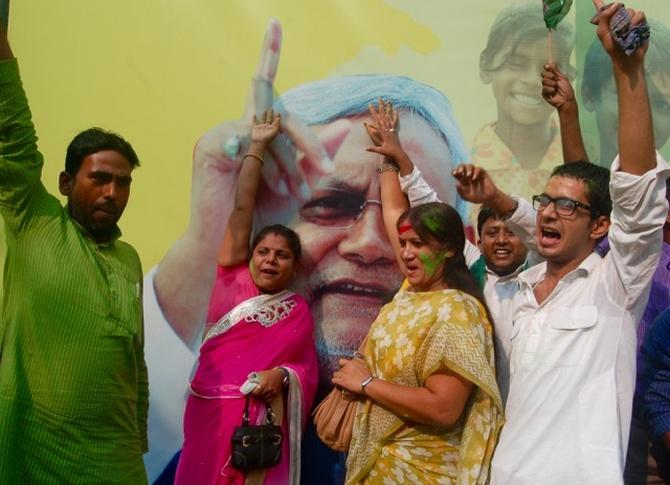 IMAGE: Kanchan Mala Chaudhary's (in a green sari) early morning prediction turned out prophetic.
Kanchan Mala Chaudhry, a JD-U worker, was confident that the Mahagatbandhan would sweep the Bihar election.
"Asli vikas purush toh Nitishji hai; Nitishji ke saamne Modi kya tikenge (Nitish Kumar is the real man of development; Prime Minister Modi stands no chance against him)," she told me early in the morning.
***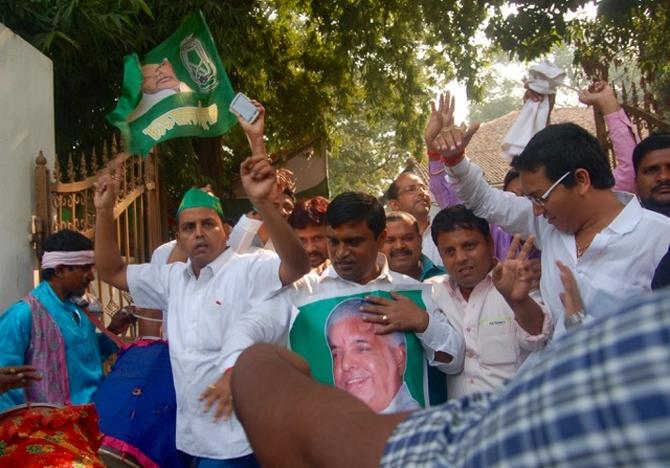 IMAGE: RJD supporters celebrate.
Across Bir Chand Patel Road at the RJD office, enthusiastic party workers began their jashn (celebrations).
Balli Yadav, the RJD general secretary, was keenly watching the trends as the two alliances were locked in a neck-and-neck race for the battle of Bihar.
Gradually, drummers were summoned as it became clear that the BJP had lost steam and was hurtling towards a rout.
The music became louder and the sloganeering shriller as Lalu's supporters started clamouring for Narendra Modi's resignation.
"This is the will of the people of Bihar," Balli Yadav said, just as the RJD began to steal a march over not just the BJP, but also Nitish Kumar's JD-U.
***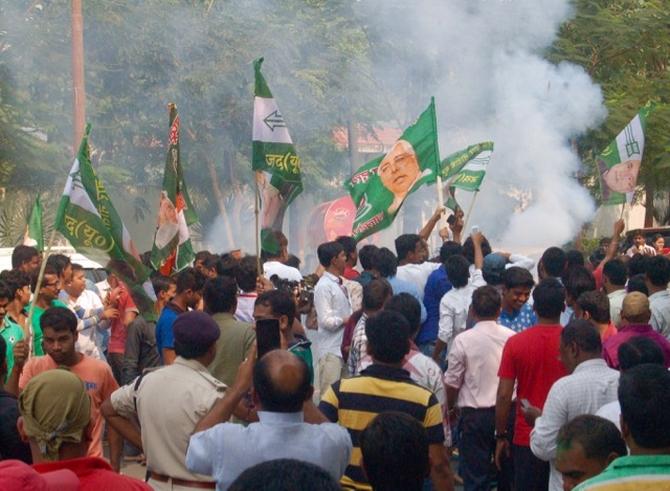 IMAGE: RJD supporters outside party supremo Lalu Prasad Yadav's home.
The real jashn was unfolding outside 10, Circular Road, RJD supremo Lalu Prasad Yadav's home.
The huge crowd that had gathered outside was busy discussing how sweet Lalu's revenge was.
As RJD candidates continued their winning streak across Bihar, Lalu's eldest child Dr Misa Yadav made brief appearances to cheer party supporters celebrating outside her home.
"Laluji toh garibon ke masiha hai; garibon ka masiha zindabad (Lalu is the messiah of the poor. Long live the messiah of the poor)," the crowds chanted, as supporters fed a poor man in the crowd.
***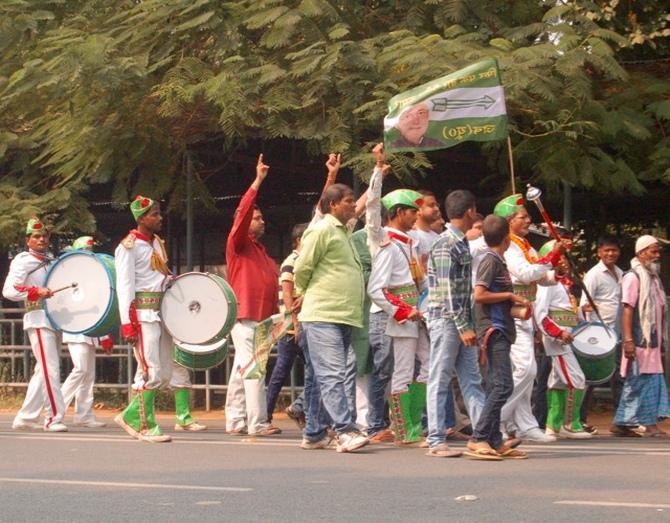 IMAGE: JD-U supporters were more disciplined in their celebrations.
For the next three hours, the celebratory crowd spread itself along Anne Road, where Chief Minister Nitish Kumar lives.
JD-U workers took out a small procession led by a liveried band. The JD-U's style of celebration, muted and measured, reflected the sobriety associated with Bihar's chief minister.
***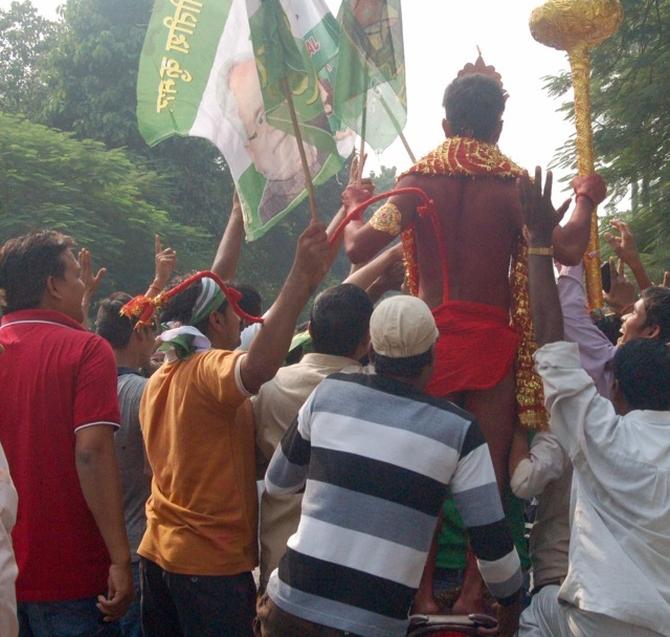 IMAGE: Ram Bikas Yadav, who works as a security guard, considers Lalu Yadav and his wife Rabri Devi as 'Raam and Sita'.
A little earlier, Lord Hanuman had descended on the Lalu household.
Ram Bikas Yadav, originally from Nakta Khurd in Bihar's Araria district, said he has always been an RJD supporter and loves dressing up as mythological characters.
He was the one dressed as Lord Hanuman.
"Jab khush hota hoon toh jagrook ho jata hoon (I showcase my real self when I feel happy)," he said as he emerged from inside Lalu's home to the amazement of the assembled media.
"Ab toh BJP bhi haar gayi hai aur phatake Pakistan main nahi, Patna main phootenge (The BJP has now lost the elections, and firecrackers will be lit in Patna instead of Pakistan)," Ram Bikas Yadav said, taunting BJP President Amit Shah who told an election rally that firecrackers would be burst in Pakistan if Nitish Kumar and Lalu Yadav won Bihar.
Ram Yadav considers Lalu Yadav and Rabri Devi as Ram and Sita and so he had dressed up as Lord Hanuman to express his solidarity with his idols.
He also produced a limerick to mock Modi, who he said, had spewed venom against the RJD supremo over the beef controversy.
"Dhaan ka roti tawa main aur Narendra Modi hawan main (The people of Bihar rejected Narendra Modi who promised to build castles in air and accepted he who promised livelihoods)," he said.
Yadav spent Rs 500 on his costume, colouring and jewellery. He earns Rs 6,000 a month as a security guard, and does not ask RJD supporters to fund his act.
"Aaj Shri Ram (Lalu) ne Ravan ki Lanka jala di (Lord Ram today burned down Ravan's Lanka)," he said.
***
By 3 pm it was clear that the JD-U's arrow (its election symbol) had hit the bull's eye, with help from the RJD and the Congress.
To be a part of the celebrations were conjoined twins Saba and Farah who cast their ballot in Patna's Samanpura locality.
"We want to congratulate the chief minister and so we are here," the twins told Rediff.com as they made their way towards Nitish Kumar's home.