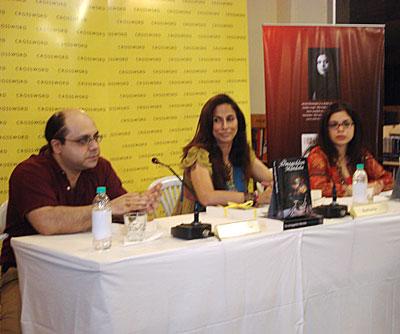 They're out for revenge, this brother and sister.
Mumbai's Crossword bookstore on Wednesday witnessed the launch for two debut authors, Europe-based siblings Amita and Gopal Mukherjee publishing their own books Ugly Duckling and The Armageddon Mandala, respectively.
The Paris-based Amita, who worked as a translator to Normal Mailer once, quoted the writer as she talked about writing being a dangerous business. Meanwhile Gopal, who describes himself as a 'writer, imagist and provocateur' drew a cricket analogy, talking about the classical old-breed and the rule-breaking, defiant new breed of cricketers, saying that parallel stretched across all walks of life.
The duo's publishing enterprise, Revenge Ink, clearly claims at bringing fiction and non-fiction to the fore, and the website www.revengeink.com features a contest seeking out Indian talent in fiction, non-fiction and graphic novels.
Gopal feels he and his sister exemplify this new breed, and Revenge will help bring out more such defiant talent from across the country.
In an age of megamillion dollar deals from overseas, the self-publishing phenomenon seems fresh, a fact heralded by the Mukherjee's guest, iconic Indian columnist Shobhaa De.
Still striking at 60, De warmly applauded the two novels.
On first impression, both books seem to be trying too hard -- Ugly Duckling seems warm, yet sounds like an Indo-French version of A Devil Wears Prada; The Armageddon Mandala, meanwhile, is about a private investigator named Allan Ginsberg.
Then again, perhaps one needs to try too hard in order to break through on their own steam.
Image: Shobhaa De (centre) with Gopal and Amita Mukherjee
Text: Raja Sen | Photograph: Hitesh Harisinghani