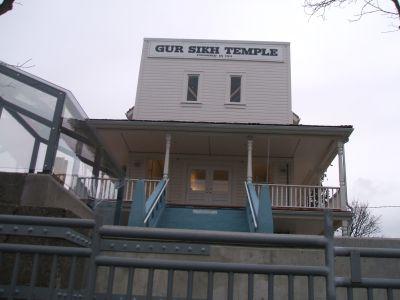 The Abbotsford gurdwara in British Columbia -- the only gurdwara in the world to have 'national heritage' designation -- was formally re-opened on April 1 after two years of restoration work with funding from the Canadian government and public donations.
"It was bitterly cold but we were warm inside," said Satwinder Bains, Director of Center for Indo-Canadian Studies at the University College of the Fraser valley, who will be the main coordinator of the history of Sikhs in British Columbia that they will now start writing for release in 2011 at the time of centenary celebrations of the Abbotsford Gurdwara.
It was the first gurdwara built on Canadian soil in 1908 but it was officially opened in 1911, she said.
It was declared a national heritage site in 2002 by former prime minister Jean Chretien.  "Now that Gurdwara has been restored to its original shape, and reopened the temple after two years, they have reinstalled Guru Granthsaheb and it is once again a functioning gurdwara," Bains said.
"On this auspicious day, Khalsa Dewan Society of  Abbotsford announced that they would engage Center for the Indo-Canadian Studies to document records and write 100 years history of the Sikh pioneers and included in that would be this heritage site," said Bains.