Police on Monday said the man behind the terror attack outside the British Parliament last week had an interest in 'jihad' but there's no evidence he was part of the Islamic State group, which had claimed him as its "soldier".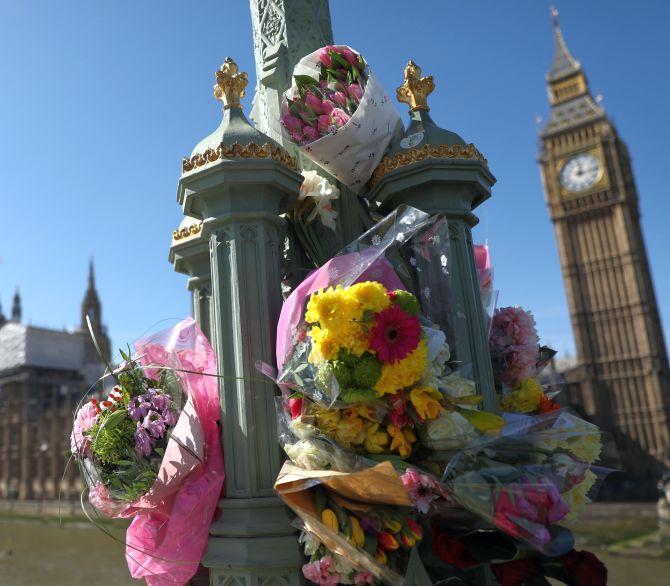 IMAGE: Floral tributes are tied to a lampost on Westminster Bridge following the attack in Westminster earlier in the week, in central London. Photograph: Neil Hall/Reuters
The Scotland Yard's Indian-origin deputy assistant commissioner, Neil Basu, in a statement said Khalid Masood's attack had echoes of the rhetoric of the Islamic State but no evidence at this stage suggests he was linked to the group.
"His attack method appears to be based on low sophistication, low tech, low cost techniques copied from other attacks, and echo the rhetoric of IS leaders in terms of methodology and attacking police and civilians, but at this stage I have no evidence he discussed this with others," he said.
"There is no evidence that Masood was radicalised in prison in 2003, as has been suggested; this is pure speculation at this time. Whilst I have found no evidence of an association with IS or Al Qaeda, there is clearly an interest in jihad."
Basu added there has been much speculation about who Masood was in contact with immediately prior to the attack and his communications that day remain a line of enquiry and called on the public to report if they heard from him on March 22, the day of the attack.
"I know when, where and how Masood committed his atrocities, but now I need to know why. Most importantly, so do the victims and families," he said.
Basu's statement came as Masood's mother expressed her shock at the attack. Janet Ajao said she had "shed many tears for the people caught up in this horrendous incident".
"I wish to make it absolutely clear, so there can be no doubt, I do not condone his actions nor support the beliefs he held that led to him committing this atrocity," she said in reference to her son, 52-year-old Masood, born Adrian Russell Ajao before he converted to Islam.
Masood was shot dead by security officials after he ploughed through pedestrians and fatally stabbed a policeman just outside the British parliament on Wednesday.
Four people were killed and dozens more injured.
Muslim women form human chain after Westminster terror attack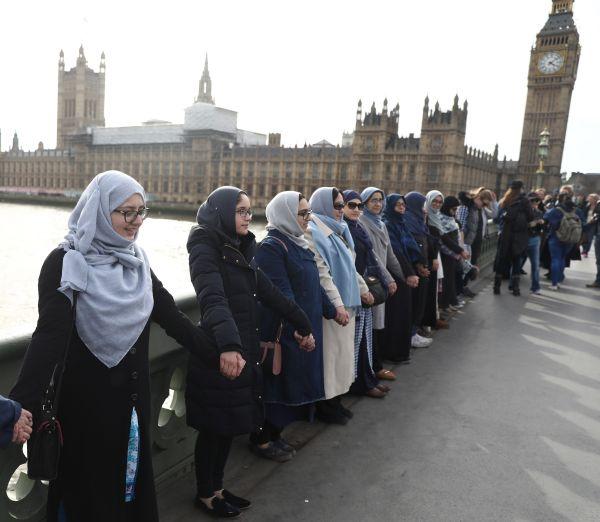 IMAGE:Participants in the Women's March, gather on Westminster Bridge to hold hands in silence, to remember victims of the attack. Photograph: Neil Hall/Reuters
A group of Muslim women formed a human chain along the iconic Westminster Bridge on Sunday in a show of solidarity with the victims of the deadly terror attack.
The women, many of whom wore blue to symbolise peace, were joined by supporters who stood in silence for five minutes when Big Ben chimed at 4 pm on Sunday.
The vigil, which was organised by the Women's March on London, came after a photo of a woman wearing a hijab crossing the bridge in the aftermath of the attack went viral on social media.
"The feeling of what happened here on Wednesday was really strong. We thought of the ordinary people who were here and were mown down, standing here like this, it was very overwhelming," Fariha Khan, from Surbiton, was quoted as saying by the BBC.
It was an 'overwhelmingly' emotional experience, another said.
Another woman who was there, Sarah Waseem, said the Islam faith "totally condemns violence of any sort".
"When an attack happens in London, it is an attack on me. It is an attack on all of us. This is abhorrent to us," she said.