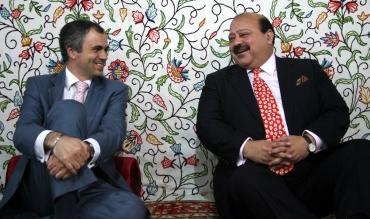 Former prime minister of Pakistan-occupied-Kashmir and senior Pakistan Peoples Party leader Barrister Sultan Mehmood Chaudhary met Jammu and Kashmir Chief Minister Omar Abdullah and senior separatist leaders in Srinagar during his visit to the Valley.
 
Chaudhary, the first senior politician from PoK to visit Kashmir since 1947, is on a four-day visit to the Valley to attend the marriage ceremony of a prominent businessman and his friend.
 
On Tuesday afternoon, Chaudhary met Yasin Malik, chairman of the pro-independence Jammu and Kashmir Liberation Front, at his residence in Maisuma locality.
 
He was welcomed by a bunch of JKLF supporters waving party flags and shouting pro-independence slogans.
 
Addressing the JKLF supporters, Mehmood said, "The sacrifices of Kashmiris won't go waste".
"Your sacrifices are bearing fruit. I can see the Kashmir issue heading for a resolution," he said.
 
Amidst chanting of pro- independence slogans, Mehmood said, "The Line of Control will crumble like the Berlin wall one day."
 
On Monday evening, the PPP leader had held a one-on-one meeting with Omar Abdullah.
 
He also met hard-line separatist leader Syed Ali Shah Geelani at his Hyderpora residence on Tuesday morning.
 
Chaudhary had demanded "demilitarisation of both parts of divided Kashmir" on his arrival on Sunday, which, he said "will facilitate the resolution of Kashmir issue".
"Demilitarisation will lead to people-to-people contact," he said.
Image: Jammu and Kashmir Chief Minister Omar Abdullah with Barrister Sultan Mehmood Chaudhary | Photograph: Umar Ganie