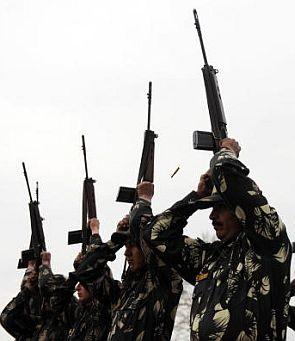 Sepoy Vijay Kumar Rai and Naik Premnath Singh, who were killed in an ambush by Pakistan soldiers at the Poonch sector of the Line of Control, were cremated on Thursday with full state honours.
Light a candle for our martyrs
While Rai was cremated at Samhauta village in Bihar's Saran district, Premnath's last rites were performed at his village, Bihta in Patna.

Rai's colleagues from Danapur regiment and those from Bihar police also paid their respect to the departed soul.
On Wednesday, Vijay Rai's wife had refused to take the Rs 10 lakh compensation offered by the state government and demanded military action instead.
Thousands of people from the jawans' villages and adjacent areas gathered at the funeral site to pay their respect to the departed soldiers.
As the pyres were being lit, villagers shouted slogans against Pakistan and demanded tough action against the soldiers' killing.

Two other soldiers -- Sepoy Raghunandan Prasad and Lance Naik Shambhu Saran Singh -- were cremated at their respective village.

Prem Nath, Vijay Kumar and Shambhu Saran had been with the Army for at least a decade and have young children.

23-year-old Raghunanadan Prasad had joined the army two years ago. In his last call to his family back in village Nautan, he had exulted about his fascination with life in the army.
The mortal remains of Naik Kundalik Mane were consigned to flames at his native village Pimpalgaon in Kolhapur district of western Maharashtra.
Hundreds of people gathered at the cremation ground to pay their homage to the 36-year-old soldier of Maratha Light Infantry.
Cries of "Bharat Mata ki Jai" filled the air as the gun salute reverberated before the funeral pyre was lit.
Earlier, military officers, Maharashtra Home Minister R R Patil, BJP leader Gopinath Munde paid their tribute by laying floral wreaths on Mane's body.
Officers of the Southern Command had paid their respects to the martyr when the body arrived at Pune airport from Delhi late last night before being transported to Kolhapur by road.

The jawans were on what is called an area domination patrol when 20 heavily armed Pakistanis attacked them at around 2 am. A sixth jawan has been seriously injured in the attack by the Pakistanis and is in a military hospital.

Additional Inputs: PTI