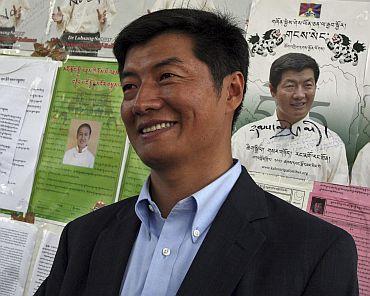 Harvard scholar Lobsang Sangay was on Wednesday elected prime minister of the Tibetan government-in-exile and would take over the political duties relinquished by spiritual leader the Dalai Lama.
43-year-old Sangay polled 55 per cent votes out of 49,189, defeating his nearest rival Tethong Tenzin Namgyal by 8,646 votes, Election Commissioner Jampal Chosang announced in Dharamsala.
Sangay is a research fellow at the Harvard Law School. Tethong Tenzin Namgyal, a Standford scholar, polled 18,405 votes while Tashi Wangdi, the Dalai Lama's representative in Brussels, New York and New Delhi, finished third.
The election was held on March 20. 59 per cent votes were cast by the electoral college comprising over 83,000 Tibetans in exile in India, the US, European countries, Bhutan, Nepal, Russia and Japan among others.
Apparently under Chinese pressure, voting was not allowed by authorities in Nepal and Bhutan. The Election Commissioner also announced the results of the polls for the 15th Tibetan parliament-in-exile.
75-year-old Dalai Lama had announced last month that he would step down as political head of the Tibetan government-in-exile but will remain as spiritual leader and continue to advocate "meaningful autonomy" for Tibet.
The Nobel peace laureate, who had been at the forefront of a six-decade-long struggle for freedom of Tibetans, had also said he would hand over his "formal authority" to a "freely-elected" leader.
The Dalai Lama, who will retain the more significant role of Tibet's spiritual leader, had made it clear that he was committed to playing his part for the "just cause" of Tibet.
"As early as the 1960s, I have repeatedly stressed that Tibetans need a leader, elected freely by the Tibetan people, to whom I can devolve power."
"Now, we have clearly reached the time to put this into effect," the Dalai Lama, who had escaped to India in 1959 after a failed uprising against Chinese rule, had said.
By devolving his powers, the Dalai Lama hopes to give the prime minister greater clout as the region seeks autonomy.
Image: Lobsang Sangay |  Photograph: Reuters