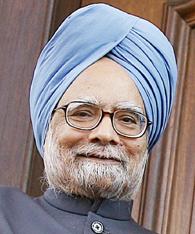 Prime Minister Manmohan Singh addressed a number of issues while talking to reporters on the sidelines of the defence investiture ceremony at Rashtrapati Bhavan on Saturday. Here are the excerpts:
Are you going to ask Law Minister (Ashwani Kumar) to resign (over coal-gate scam)?
There is no question of the law minister resigning. The matter is now in the court and it is sub-judice. Therefore it is not proper for me to do anything, but there is no question of the law minister resigning.
Regarding China's incursion in Ladakh, does the government have any plans to solve the standoff?
We do have a plan. We do not want to accentuate the situation. We do believe that it is possible to resolve this problem. It is a localised problem. Talks are going on (with China).
Regarding the Sarabjit issue (attack on the Indian prisoner in a Pakistani jail), do you know what the situation is?
Yes, it is very sad. Some inmates attacked him in jail. I think that is a very sad development.
The opposition has been demanding your resignation?
This is not the first time in the last nine years. How many times has the opposition demanded my resignation? But I would like to appeal to the opposition that they should let the Parliament function.
By not allowing Parliament to function, we are making a mockery of our system of democracy. The whole world is laughing at us. Whatever the issues, these can be debated, discussed and decisions arrived at through proper dialogue in Parliament.
The BJP has alleged that the prime minister is using the law minister to shield himself from the coal-gate probe
I would not like to comment on this subject. It is a matter which is now before the court and it is sub judice.
The chit fund issue has affected a lot of ordinary people?
Unauthorised collection of deposits, in exchange for the promise that exorbitant rate of return will be given, is something which has to be curbed.